Kitchen Cabinet Organization Must Haves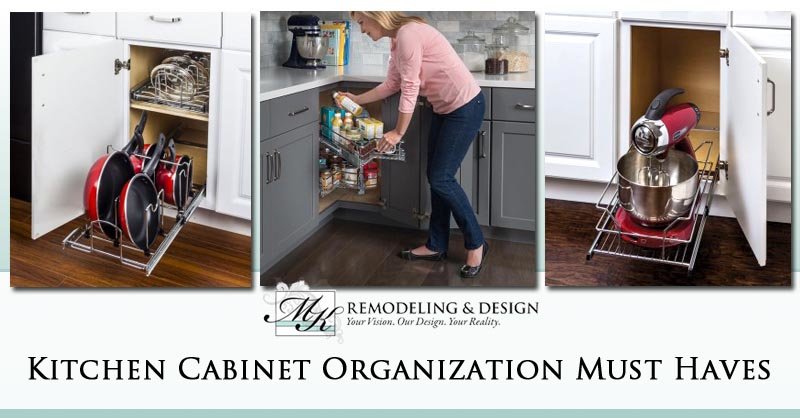 Kitchen cabinet organization is one of the major focuses in today's kitchen design and remodeling world. Having enough space that's laid out intelligently makes the kitchen more user friendly. Better organization in the kitchen means it will befaster and easier to cook and even clean up. See all of the great kitchen cabinet organization products and solutions below.
Kitchen Cabinet Organization Design
When you enjoy being in your kitchen and cooking, you'll do it more and end up saving money.  There is a wide variety of kitchen cabinet organization products that will help make the kitchen more ergonomic.
Pot & Pan Organization
Most homes have various sizes of pots and pans.  They typically get stacked inside each other to save space.  This might be a space saver but means you've got to dig out the pan or pot you need every time you cook.  Pot and pan organizers rack your pots and pans on their sides and stand them up much the same way a dishwasher does.  This makes better use of the cabinet space and solves the problem of having to lift up 3 or 4 pans to get the one you need.
Spice Organization
Most homes have a wide variety of favorite meals that require a wide variety of spices. From Turmeric to Tandoori and Vanilla to Thyme you need to be able to find what you need easily and quickly as you cook. There are a number of great spice organization options. You can include door mounted tray systems, have a spice tray drawer organizer, or even pull-out spice storage.
Kitchen Cabinet Corner Storage
Kitchen cabinet design has always been tricky in the corner of the kitchen. To solve this problem people use lazy susans, corner drawers, and pull out corners. All of these solutions focus on making it possible to use the corner space in your kitchen, but still have the items stored easily accessible.
Kitchen Cabinet Appliance Storage
Serious foodies and home chefs typically aren't satisfied with a toaster and microwave. They have KitchenAid mixers, Nuwave grills, and Crockpots. There typically isn't space to just leave these appliances out and they can be cumbersome to store. A metal basket pull out organizer is the perfect solution to where and how to store your kitchen appliances. This will leave your counter space clear and ready for use.
Under Sink Kitchen Cabinet Organizers
Another spot in the kitchen that frequently gets chaotic and needs some organization is under the sink. Your dish soap, dishwasher tabs, sponges, brushes, and cleaning supplies are many times simply a mess under the sink. A cleaning supply caddy with a pullout and handle make it easy to get what you need out or take all of it out for a deep kitchen cleaning.
Trash Can Pull Out Storage
Most homes are trying to maximize the storage space in the kitchen. Closets with a garbage can are a wasteful use of space. Many homeowners prefer to have cabinet trash compactors or pull out trash areas. This makes it easily accessible yet out of sight. These solutions also help keep potential garbage smells out of your kitchen.
Kitchen Cabinet Organization & Design
MK Remodeling offers kitchen remodeling services in Phoenix that include detailed kitchen cabinet organization solutions in our designs. Our team thoughtfully considers your kitchen cabinet needs and creates well laid out cabinet organization solutions that will make it easier and more fun to use your kitchen. As more and more families are spending time in the kitchen the better organized it is the more you'll use it and save money over going out for meals. Click To Browse Our: Kitchen Cabinet Organization solutions. For more information about kitchen cabinet organization please call 480-285-6443!