ARE YOU A CONTRACTOR? DESIGNER? HAVE A LARGE ORDER?
EMAIL US FOR ADDITIONAL DISCOUNTS HERE.

FREE SHIPPING ON ALL ORDERS!
When you're searching for cabinet organizers or kitchen cabinet pull outs; MK Cabinetry is here to help. We offer high quality pot organizers, pan organizers, appliance pull outs, pull out shelving, and more to keep your kitchen cabinets organized. We sell pots and pan organizers for 15″ base kitchen cabinets. Shop pots and pan organizers below or read the benefits of kitchen cabinet organizers here. The better organized your kitchen is, the more you enjoy cooking, and the more you will end up cooking at home!
Browse these great kitchen cabinet organizers for pots, pans, lids, appliances, spices, and more. When you see a cabinet organizer product that'll benefit your home simply click "add to cart" and then the checkout button when you're done shopping.
BENEFITS OF KITCHEN CABINET ORGANIZERS
Cabinet organizers help make the storage in your kitchen better, items more accessible, increases your home's value, and help remove the need to reach for items left at the back of cabinets. Enjoy your home, kitchen, and cooking more with better cabinet organization. We offer these great cabinet organizers along with custom kitchen cabinetry services. We offer service to come and consult with you over your home's needs, provide design services, and stay with you at every stage of cabinetry remodeling. No matter the scope of the job MK is here to help you with all of your cabinetry needs.
INCREASE KITCHEN STORAGE – Pots & Pan organizers help increase your kitchen storage space. You can get more functionality out of your kitchen storage and find pots easier when you can see everything pulled out at once.
NO NEED TO REACH – No more reaching far back into the cabinet to find that cooking pan you are looking for. These cabinet organizers slide out to you for easy access.
LONG LASTING – These kitchen cabinet organizers will last a lifetime. They are built with quality in mind to ensure years of functionality.
INCREASE HOME RESALE VALUE – Home improvements increase your home resale value. Plus, think about potential buyers reactions to these cabinet. We bet they can see themselves using them in the future.
EASY CABINET ORGANIZER INSTALLATION INSTRUCTIONS
These kitchen cabinet organizers for pots and pans are easier to install than most pull out shelves.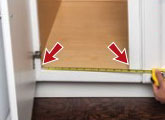 1. MEASURE YOUR CABINETS – Measure your kitchen cabinet's height, depth and width. Hold your measuring tap parallel to the walls of the cabinet. Take note of any hinges, shelves, or pipes that may affect the available space.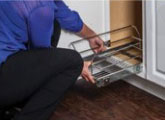 2. SET THE ORGANIZER IN PLACE – Set your cabinet organizer in place and make sure your can open and close the door easily. If the cabinet organizer installs on the cabinet door, make sure and mark two points to help out with the alignment.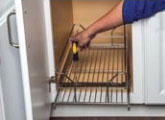 3. SECURE THE ORGANIZER – Use a Phillips head screw driver and the screws you were provided to secure your cabinet organizer in place. Make sure you don't strip the screw heads so you can remove or replace the organizer if ever needed.
CONTACT OUR DESIGN & REMODELING TEAM TODAY!
Have questions about our cabinet organizers or having problems with the installation? We would love to speak with you, give us a call today at 480.677.9829.