BATHROOM VANITIES SCOTTSDALE
ARE YOU A CONTRACTOR? DESIGNER? HAVE A LARGE ORDER?
EMAIL US FOR ADDITIONAL DISCOUNTS HERE.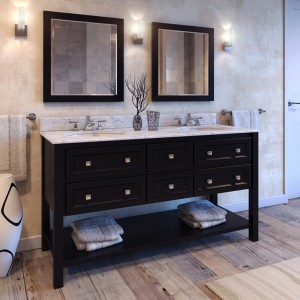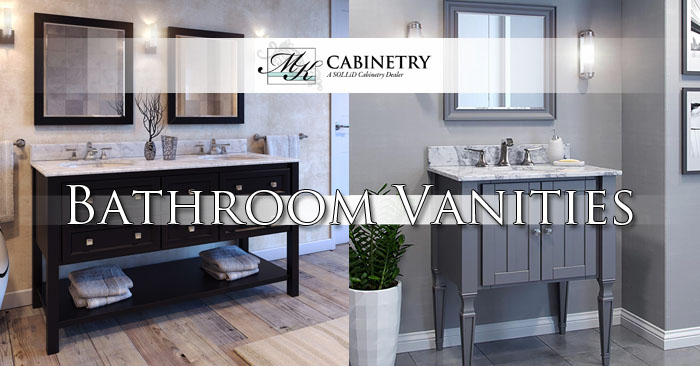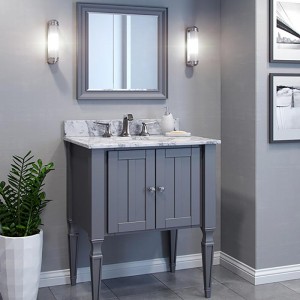 FREE SHIPPING ON ALL ORDERS!
If you are searching "Bathroom Vanities Scottsdale", small bathroom vanities, bathroom vanity mirrors, bathroom vanities with tops, rustic bathroom vanities, or bathroom vanities near me; MK Cabinetry can help! MK Cabinetry offers a great selection of elegant vanities for sale, and offers design assistance and installation services in Scottsdale, Arizona. Check out our vanity collection on the page. If you are in need of a custom vanity configuration, color, or any other bathroom accessory to go with the style of your new vanity, please give us a call. We are able to install new vanities and accessories in Scottsdale, AZ or ship nationwide. If you are bathroom or kitchen remodeler, contractor, or an interior designer, contact us to learn about our discount pricing or you and your company. Contact us by email or call at 480-677-9829.
Follow us on Social Media Channels For Other Promotions, Discounts, And Coupons.
BATHROOM VANITY STYLES
Generally your home will have its own character and style that makes it unique, the bathroom should also have your unique style. We provide a large range of bathroom vanities for designer and homeowners to match their traditional baroque or modern styles in their homes. Every model that we provide on this page has various configurations available layouts and colors. We offer vanities with clean white minimal style along with rustic style vanities to fit any home. Simply contact us to obtain more information regarding how we can help with your new bathroom vanity!
BATHROOM VANITY INSTALLATION
At MK we sell and install new bathroom vanities within the Scottsdale and the surrounding Valley. With MK Cabinetry you are provided with a full solution for your vanity needs, as we not only sell them, but deliver and ensure they are properly installed. You will get help choosing the best vanity for your needs with our design staff, and then we transport it to your home and provide professional installs. Additionally, we also offer an entire bathroom remodel if needed. For homes in Scottsdale, a home remodeling service can be as limited or complete as you desire.
CUSTOM BATHROOM VANITIES
Your home and bathrooms are your sanctuary before and after every day. The layout, color, configuration, hardware, size, and every other element of your vanity should be your own and fit your needs. MK Remodeling builds, sells, and installs custom bathroom vanities for Scottsdale property owners. You can custom design your vanity to fit your decor, preferences, and any special needs or desires you many have. Get the bathroom vanity of your dreams that will fit your needs for storage, style, and fit into your home seamlessly.
BATHROOM VANITIES WE SELL ONLINE
MK Cabinetry not only offers local bathroom vanity installation services in Scottsdale but also is an online retailer of bathroom vanities. Take a look at the bathroom vanities for sale online. Also, be sure to check out our bathroom vanity buying guide for more information on how to choose a bathroom vanity style for your home.
BENEFITS OF BATHROOM VANITIES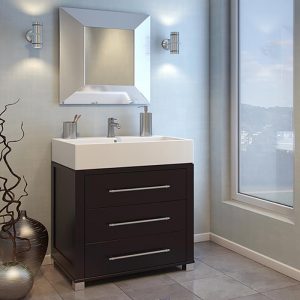 The installation of a bathroom vanity is able to do more than update the appearance of a bathroom, it can provide more organization, luxury and comfort. Many homes forget about the bathroom, so they are not updated as frequently. However, the bathroom is one room many people spend a lot of time to get ready for events, or their day, and pampering ourselves, so it should be a comfortable area. By replacing any outdated broken or worn down elements, such as the sink, faucet, cabinetry or fixtures can provide a refreshing space.
COMPLETE REPLACEMENT SOLUTION
Bathroom vanities we provide include the whole package, including the countertop, sink, and cabinets. Each vanity sold will be made from high quality wood, stone, metal, and porcelain. Buying a vanity provides all you need, rather than having to search for each separate element. When looking for the faucet, sink, and cabinets separately you have to stress over it all matching and looking great, but purchasing a vanity with MK all the details have been worked out for you. This ensures a complete and matching vanity coordinated by our designers.
GREATER ORGANIZATION
We provide homeowners with new bathroom vanities that enhance the organization of space. Drawer operations are smooth, resulting in having a better layout and being more organized due to an easily gliding drawer. It simply makes it easier to reach everything you need, when you need it. You can be searching for hygiene or a beauty product, like electric shavers, hair tools, etc. You will know exactly where it is, making your mornings much less stressful.
EASY TO MATCH DECOR
Our vanity options include a wide variety of colors and finishes, we are sure to have many options that will fit within your current color scheme, or we can match your bathroom remodel with fun additions. We will talk with you about the character and style you are looking for and help you find it. It does not matter if you want to purchase a vanity and get it installed by us, or wanting a full bathroom remodel, we can sell, deliver and install it, from small to large projects. We provide a complete remodeling solution, from customized designing, selling and remodeling.
BATHROOM VANITIES SCOTTSDALE
We've sold many bathroom vanities and installed many different styles of bathroom vanities in Scottsdale. If you are looking for a bathroom vanity installer or bathroom remodeler, MK Cabinetry can help. We have the design team to help you envision your new bathroom and skilled craftsmen needed to remodel your home to be uniquely yours. Contact us today to get a step closer to a home and bathroom you love! Schedule a bathroom vanity installation quote in Scottsdale today by giving us a call at 480-677-9829 or schedule an estimate.