Sliding Barn Door for Bathroom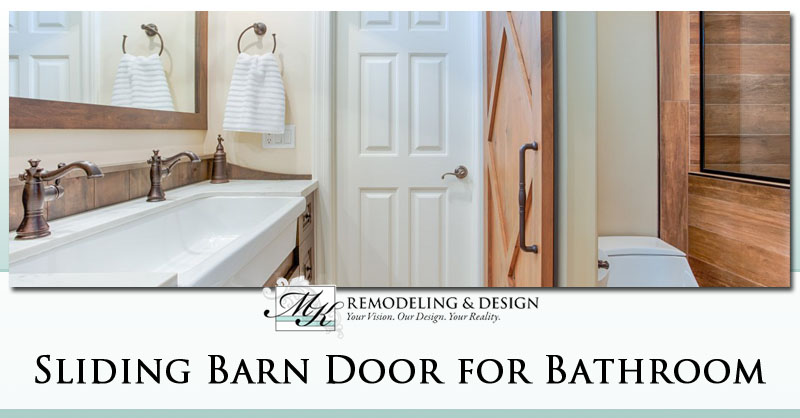 Sliding barn doors for bathrooms are increasing in popularity every year. Not just because they are a unique and rustic way to decorate your home, but they are a space saving and durable door option. Clients all over the Phoenix Valley are search for barn doors and MK Remodeling is happy to offer custom barn doors that we design, fabricate, and install in your home. Add some style and unique appeal to your property by choosing to install a barn door from MK Remodeling!
What Is A Barn Door?
A barn door is defined as a door or set of doors which slide along a track from side to side to open and close.  Interior barn doors are those that people install to save space and offer privacy to rooms with unique style.  Barn door hardware is incredibly durable and the doors themselves are built from robust materials that stand the test of time.
Benefits Of Sliding Barn Doors for Bathrooms
Barn doors have a number of attractive benefits for home and even business owners.  Chief among the benefits is space, durability, ease of operation, and maintenance.  Barn doors might have started their life on the ranch but have made their way into the finest homes and businesses.  Take a look at some of the best benefits of barn doors.
Unique Style
Doors are just as useful as sliced bread, but traditional doors are so common as they're not noticed.  For discerning property owners who want their offices, homes, restaurants, or stores to stand out from the crowd take advantage of unique visual cues such as barn doors and custom entryways.  The doors that stand at the space between rooms introduces the space visitors are entering and helps set a stage for exciting and unique experiences.
Space Saver
Sliding barn doors for bathrooms make it easy to get in and out of the bathroom without having to hit someone with the door as you enter or exit.  They simply slide out of way and down the track.  This means you can place furniture where a traditional door would have to have room to swing open.
Durability
The hardware and durable installation of barn doors offers incredible durability.  The doors are typically made from highly durable long-lasting woods and the hardware is some of the longest lasting imaginable.
Ease Of Operation
A Sliding barn door may have a little weight, but it is easily slide open and closed with the track systems they're hung from.  The tracks make it easy for children and adults alike to open and close the door.
Ease of Maintenance
The hardware is also exposed as the track is install on the side of the wall and you can see the barn door hardware simply doing its job.  If a wall pocket door the slides comes off the track it can be frustrating to fix.
Bathroom Barn Door Considerations
Barn doors for bathrooms are growing in popularity as they open up floor space where a traditional door would have to swing open.  They offer the convenience of a wall pocket door without having to completely tear the wall apart to install one.  There are a number of considerations before you install a barn door for your bathroom, read through them below.
Barn Doors Bathroom Privacy
One of the considerations for barn doors for bathrooms is privacy.  Barn door hardware is made in different styles and some will hang the doors closer to the wall than others.  For bathrooms barn doors should be hung as close as possible to the wall to provide privacy for the bathroom.  It's also a good measure to choose a door that's sufficiently wider than the opening to help remove any conceivable privacy issues.
Bathroom doors are ones we also like to lock, and barn doors for bathrooms can be equipped with a barn door hook.  This is the best combination of elements that guarantee style and privacy.
Installation Structural Integrity
Much like any remodeling or home improvement project you need to know if your home's structure is built robust enough for any addition or subtraction.  There's no way to just take a peek at your wall and know if it was framed adequately to support a barn door.
Newer Homes – All modern construction is built with framing that should be able to support barn doors.  So if your home if fairly new you are probably already ready for barn doors and just need to select the door style and hardware that fits best with your style and home.
Older Homes – Older homes may need some minor reinforcing before installing barn doors. This is one of the key points that MK Remodeling can help you with.  We will examine the wall and reinforce it when needed to ensure that the doors are installed correctly and don't compromise the wall's structural integrity.
Barn Door Hardware
The barn door hardware does distribute the weight of the system across the header to support the door from the wall.  In addition to making sure the wall is robust enough to support the door it's also critical to ensure the track system hardware you've chosen is strong enough to support the door or doors you want to install.  This can be one of the trickiest parts if a person tries to install interior barn doors themselves.
How Much Are Barn Doors?
Much like any home improvement project homeowners and property owners cost is an important question.  Property owners can choose to go with aluminum tracks and cheap doors average costs might be between $400-$650 dollars.  Custom doors with robust tracks that will last will cost between $700-$2,500+.  Exact costs will depend on the condition of your home, if any structural reinforcement needs to be done, the style of door you choose, and the barn door hardware needed to support your door style.  For more information about how much your barn door installation will cost, please give us a call.
GET A BARN DOOR QUOTE TODAY!
If you're interested in installing a barn door for bathroom in your home MK Remodeling can help!  We offer Phoenix Valley residents custom barn doors that are durable as they are visually stunning.  Let us help you custom design, fabricate, and install a unique rustic element to your property in Mesa, Tempe, Gilbert, Phoenix, or anywhere in the East Phoenix Valley.