FREE SHIPPING NATIONWIDE | USE CODE MKTAKE10OFF FOR 10% OFF EVERYTHING ONLINE!
HOME REMODELING SERVICES IN MESA, AZ

When you search for Home Remodeling near me in Mesa, Phoenix, Chandler, Scottsdale, Gilbert, or Tempe; MK Remodeling can help! We offer the east valley cities whole home remodeling services that cover the kitchen, bathroom, living room, laundry room, bedrooms, or any rooms in your home or basement that you'd like to make more enjoyable.
WHOLE HOME REMODELING SERVICES
Popular remodeling projects include: Bathroom Remodeling, Kitchen Remodeling, Custom Flooring, Custom Fireplaces, Cabinetry Installation and more! Our remodeling services can improve the layout of your home along with simply refreshing the look of the rooms with custom cabinets, improved storage, and simply better more visually stunning design. Whether you've bought a fixer upper, inherited a home, or just want to breathe new life into your older home MK Remodeling can help! Our whole home remodeling services include renovating the following areas of your home including the following.
KITCHEN –

Countertops, Flooring, Custom Cabinets, New Appliances, Sinks, Painting, Tile Work

BATHROOM –

Master Bathrooms, Guest Bathrooms

LIVING ROOM –

Flooring, Painting, Tile Work, Furniture Selection, Walls

DINING ROOM –

Flooring, Painting, Walls, Furniture Selection, Renovation

ENTERTAINMENT ROOM –

Walls, Flooring, Painting, Furniture Selection, Renovation
BASEMENT –

Flooring, Walls, Appliances, Cabinets, Furniture Selection, Renovation

CLOSETS –

Redesign, Shelving, Flooring, Walls

LAUNDRY ROOM –

Flooring, Walls, Cabinets, Appliances

BEDROOMS –

Master Bedroom, Kids Bedroom

OFFICES –

Walls, Flooring, Cabinets, Furniture Selection

CABINETS –

Custom Bathroom, Kitchen, and Designer Cabinetry
UNDERSTANDING THE HOME REMODELING PROCESS
One of the first things that is helpful to know is that a whole home remodel isn't something that can be done in a matter of days or even weeks; depending on the scope of the work.  What you should know is that MK Remodeling offers clear and reliable remodeling schedules that outline the remodeling projects you want to done and milestones you can track as work progresses.  If you want to refresh your entire home the work may take several weeks or months depending on how much you want remodeled in your home.  From design and permits to demolition and remodeling our team stays on task and gets your remodel done correctly and quickly as possible. Prior to doing anything, you should sit down and speak with our remodeling contractors. During the process of your remodeling project, this person will be your best friend as they work with you each step in the process to make sure all your requirements are met. Our home remodeling contractors will be able to assist you with each aspect of the whole house remodel, from hiring subcontractors and dealing with code officials, to ordering the supplies and keeping project deadlines.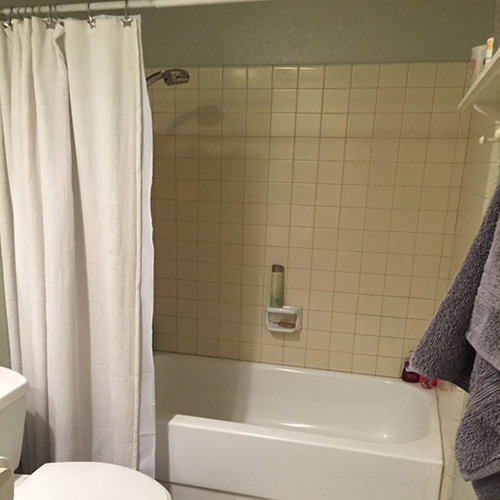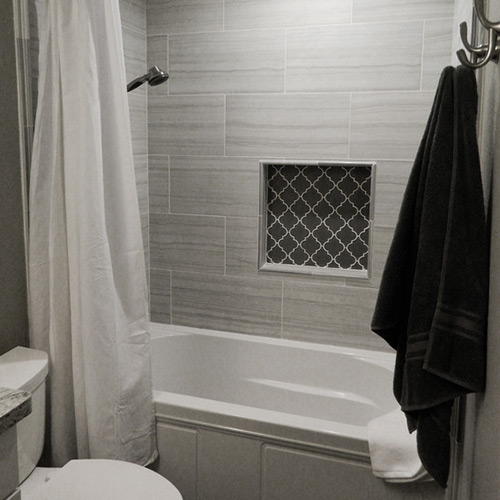 MK is here to help guide you through the entire decision making process of your bathroom remodel including space & design planning, countertop selection, flooring selection, bathroom lighting, cabinet selection and more. Contact us today for a quote!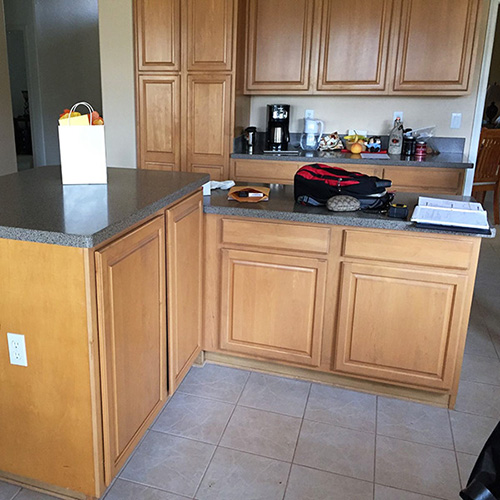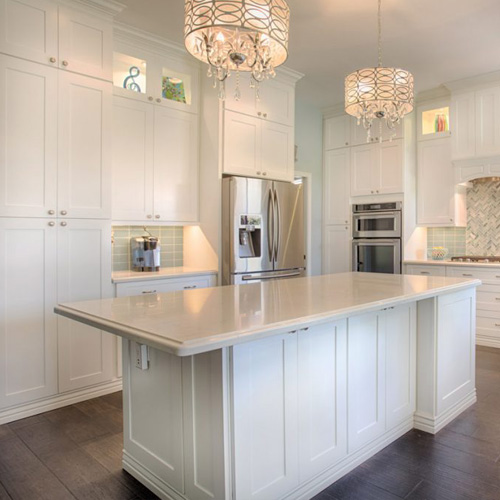 MK is here to help guide you through the entire decision making process of your kitchen remodel including space & design planning, countertop selection, flooring selection, kitchen lighting selection, cabinet style and color selection, appliance upgrades and more.

We proudly sell and install SOLLiD Cabinetry. These semi-custom designer cabinet lines offer home or property owners the ability to customize their bathroom or kitchen remodel with the latest styles. You'll get the sizes you need in the colors you want all with great turnaround and domestically made cabinetry.
We offer all lines of cabinetry from SOLLiD Cabinetry as well as the Cabinet Accessories and Hoods and Mantles they offer. Whether you are looking for economical cabinet options or want a custom look at an affordable price, we have a cabinet that will fit your needs.
KEEPING YOUR HOME SAFE DURING REMODELING
When remodeling an entire house, various aspects should be considered. If the house had been built prior to 1980, there may be concerns about lead. This is because old houses commonly used materials that are not considered safe by today's standards. These include asbestos ceiling tiles, and lead based paints. Our remodeling contractors will be able to help you better understand what steps need to be taken to ensure you and your family, as well as the workers remain safe.
In addition, as there are so many different levels to a whole house remodel, the contractor will assist in hiring a subcontractor for the various phases. It's also likely you will require plumbers, carpenters, electricians, HVAC professionals, flooring installers, as well as interior designers, along with bathroom and kitchen experts too. Whole house remodeling projects are investments, and you are going to want a person that can help you get the most out of a budget, while helping create that dream home that you are going to love living in for years.
Also, you will want to consider if your house is going to be 'livable' during the duration or in part of the remodeling project. There are times people undergoing whole house remodeling will stay with relatives or use short-term rentals during the remodeling process. In the different phases, you will be without a bathroom, and/or kitchen, so it should be considered prior to starting.
CUSTOM HOME REMODELING ESTIMATES!
If you are in consideration of a whole house remodel, let the Home remodelers of MK Remodeling help you. We have the ability to connect you with general contractors that are able to assist you in the whole house remodeling project you want, while ensuring it reflects you, your personality and your lifestyle. Simply call us today at 480.677.9829 for an in-home remodeling estimate in Mesa or anywhere else in the Phoenix Valley, and we will be glad to help. Take a look at our before and after home remodeling photos below.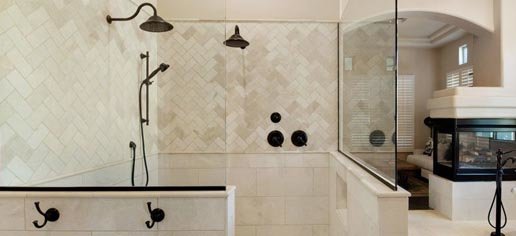 NEW SHOWER
A new more spacious and ergonomic shower is a very popular bathroom remodel idea.  The exciting layout of new tile, better shower heads, and improved lighting make the daily chore of showering a moment of relaxation.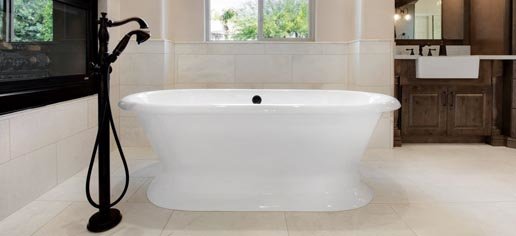 NEW TUB
Most homes were outfitted with fairly shallow tubs that aren't very pleasant to soak in. Installing a new claw foot tub in your bathroom is a great way to improve the comfort of your bathroom and improve the value of your home.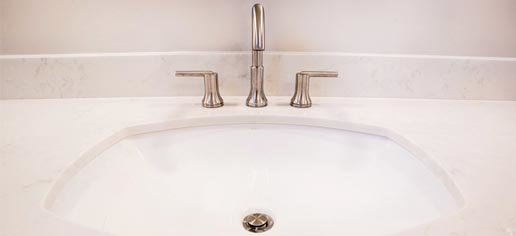 NEW COUNTERTOPS
The countertop is one of the largest surfaces in your bathroom and likely the one you interact with the most. Your daily hygiene routine items lay on it and if it's outdated, an odd color, or simply worn a new one will help!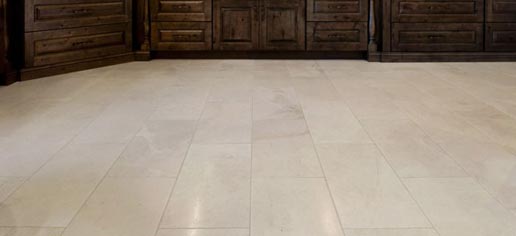 NEW FLOORING
Flooring in your bathroom is one of the most used and abused areas in your home after entryways. Having a new layer of tile flooring added to your bathroom helps it become a more welcoming and easy to clean space.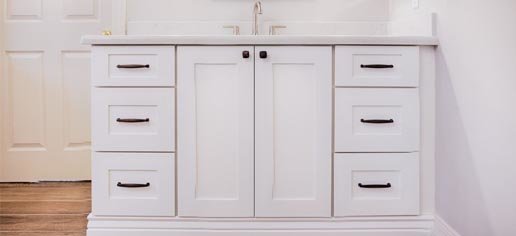 NEW CABINETRY
Storage is key in bathrooms and many of them are not equipped with sufficient storage to meet the needs of families. We will design and install improved cabinetry to provide the space you need for your toiletries and towels.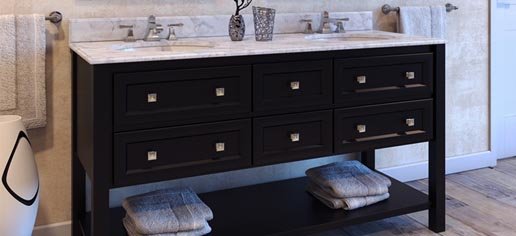 NEW BATHROOM VANITIES
The all in one solution for many bathrooms is a new bathroom vanity. Bathroom vanities come with a new countertop, cabinetry, sink, faucets, and improved storage for your bathroom. We proudly care a wide variety of vanities.
GET A HOME REMODELING QUOTE HERE!
Receive a home remodeling quote by giving MK a call today at 480-677-9829 or click the link below.