FREE SHIPPING NATIONWIDE | USE CODE MKTAKE10OFF FOR 10% OFF EVERYTHING ONLINE!
SOLLID CABINETRY DEALER IN MESA, AZ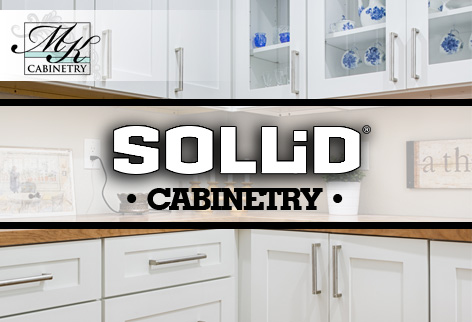 If you're searching for "SOLLiD Cabinetry", "SOLLiD Cabinet Dealers" or "SOLLiD Cabinetry Reviews" in Mesa, Scottsdale, Tempe, Chandler or anywhere else in the Phoenix East Valley, MK Remodeling Can Help! We offer all lines of installation of all lines of SOLLiD Cabinetry including designer, value and frameless series. We also sell SOLLiD Cabinet Accessories and Hoods and Mantles. Whether you are looking for economical cabinet options or want a custom look at an affordable cost, we have a variety of cabinetry options that will fit your needs. Schedule a free SOLLiD Cabinetry installation estimate by giving MK Cabinetry a call today at 480-677-9829.
SOLLiD® Cabinetry was originally started back in 2008 with one goal in mind: to give cabinet dealers like MK Remodeling, and their customers with low cost, high quality cabinets without the need to wait for months for them to ship. MK Remodeling offers the following SOLLiD Cabinetry Lines: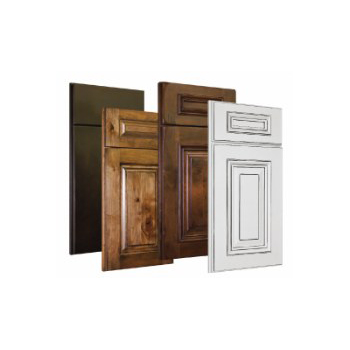 The SOLLiD Designer Series cabinets are a semi-customizable alternative to custom cabinets.
The SOLLiD Cabinetry Value Series cabinets are a low cost option that delivers a high quality look.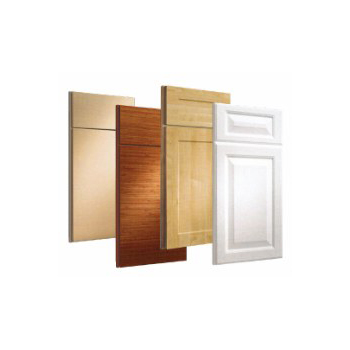 The SOLLiD Frameless Series feature Thermofoil doors built from high-quality vinyl.
SOLLID KITCHEN & BATHROOM CABINETS
View photos from some of our most recent cabinetry and remodeling projects.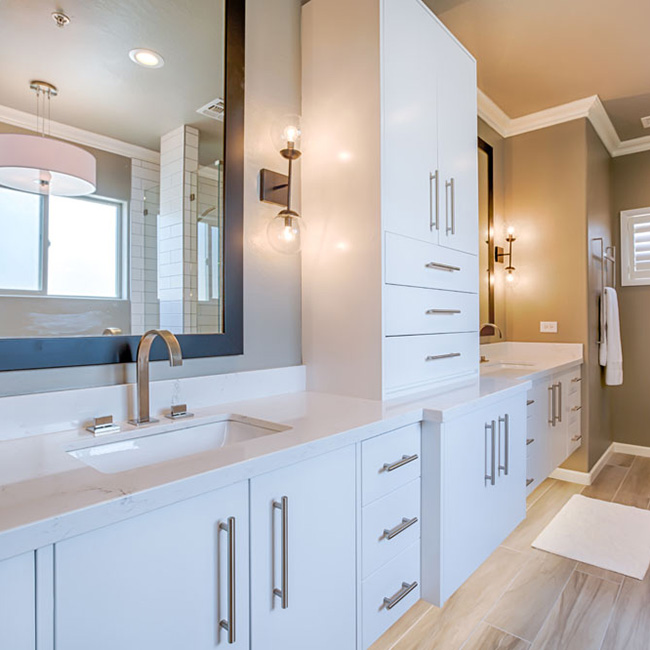 SOLLID BATHROOM CABINETS
For this modern master bathroom, we worked extensively with the client to capture his vision of the bathroom and brought our expertise and finishing touches to bear. The master bathroom features floating SOLLiD Frameless Series – Elegante II bathroom cabinets in Satin X.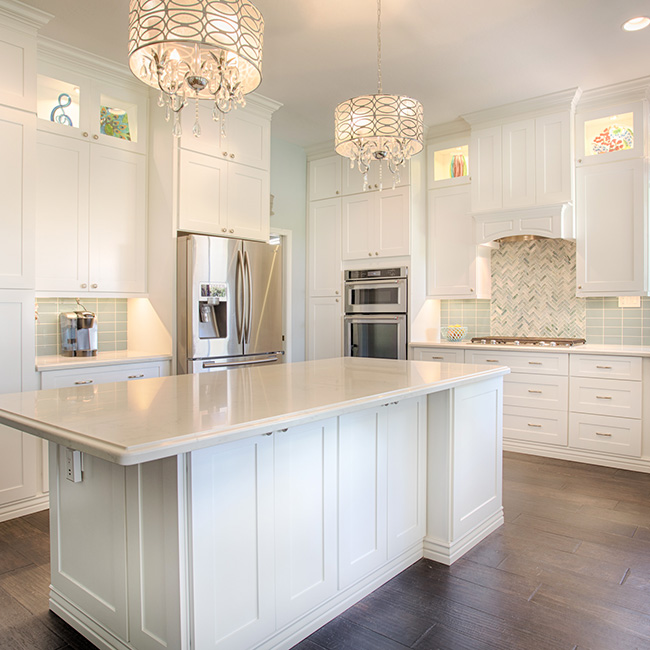 SOLLID KITCHEN CABINETS
This kitchen remodel project features our white kitchen cabinets with a range hood in the same style. The countertops are New Carrara Quartz and have an Ogee edge that complements the kitchen well.
"I'm a General Contractor specializing in kitchen and bathroom remodeling. I've been using Sollid cabinetry for over two years and have been very impressed with their quality and service. With their wide variety of door styles and finish options I use their cabinets on over 90% of my projects. My clients and installers love their cabinetry."
"I bought a house with Sollid cabinets. I needed to repair some drawer slides and contacted them and they were able to help me out quickly and courteously even though I was not the original purchaser. I went to their warehouse in person in Tempe to pick up some parts. I truly appreciated their great customer service."
"I am cabinet subcontractor that generally sells only to builders. I recently started selling Sollid Cabinets and have been extremely satisfied with their products. My customers are very excited that I can offer them such a quality cabinet at such a reasonable price."
"I been using these cabinets for awhile now this company by far has top Quality Cabinets and hands down the best service they really care about there customers."
"They make a high quality cabinet, and have lots of options for add-ons. And we always get timely responses to our questions!"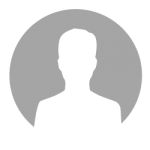 Byron J
"Work was done in two parts: Initially raised ceiling in kitchen, moved washer and dryer to garage from kitchen, installed new lighting, and painted. Second part involved total kitchen remodel with removing walls to create open space; new cabinets, granite, lighting. MK remodeling did a beautiful job remodeling my kitchen. I had my kitchen gutted and completely redone. They are very professional; they completed the kitchen in a timely manner and went out of their way to make me happy. Kristina designed my kitchen; she has a natural talent for understanding what you want (and has excellent taste). Mike is wonderful to work with and will always go out of his way to make sure things are done to your satisfaction. They made a big project easy by handling everything. This honestly was not an inexpensive endeavor, but I am a believer in you get what you pay for. This is the third time I have used MK remodeling and would absolutely use them again for any future project that I may have."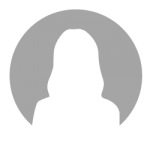 Roseann R
"MK just finished a large remodel on our house, including gutting/enlarging the kitchen and laundry room and adding on a room and patio. They did an excellent job - Very high-quality workmanship and proficiency in navigating our very particular City Regulations. Their designer did a great job of reviewing options of available materials and helping me pull all of my ideas together. We are very pleased with the results. In addition, all staff were super-friendly and easy to work with. They were accommodating and considerate to my husband and I, as we continued to live in the house through all the work. I will definitely use them for my next project, and recommend them highly to others."
BENEFITS OF SOLLID CABINETRY
SOLLiD Cabinetry sets the standard for quality and fast turnaround for all American cabinet makers. With over 100 custom finishes and a wide variety of styles SOLLiD offers the quality of American made cabinets to homeowners and remodeling companies like MK Remodeling. We are proud to sell and install SOLLiD Cabinetry products to our customers here in Arizona. See below to read more about the benefits of installing cabinetry by SOLLiD.
MADE IN AMERICA
SOLLiD Cabinetry proudly assembles and finishes their products right here in the United States. That means that turnaround is much quicker without having to wait for that slow boat to deliver your cabinetry. In fact orders with SOLLiD Cabinetry can ship in as little as 3 days!
EXPERT CABINET MAKERS
The quality you get is the result of over 75 years of combined experience in cabinet making. What that means to property or homeowners is uncompromised quality from experienced cabinet fabrication professionals. This translates into durability, strength, and cabinets that will last.
HIGH QUALITY MATERIALS
SOLLiD never compromises on the quality of the raw materials they use to construct cabinets. Every drawer, door, glide and slide is of the highest quality. You know you are getting the semi custom quality cabinets you want without having to purchase cabinets made from inferior materials.
ARTISAN FINISHES
To offer semi custom design flexibility we offer options such as hand applied glazes and hand distressing. These optional finishes mean that consumers can get the luxurious look of fully customized cabinets for less and not have to wait longer for the order to get filled by other vendors.
SOLLID CABINETRY FEATURES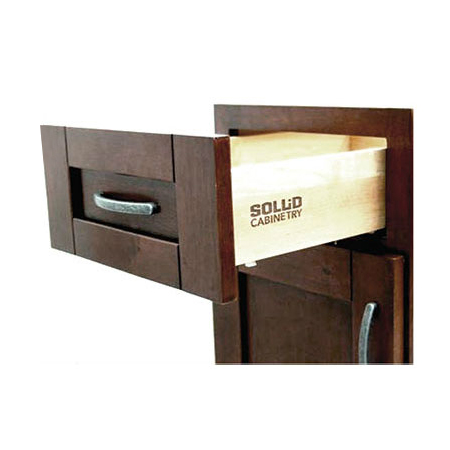 1/2″ 9-Ply Furniture Grade Plywood
3/8″ Plywood Drawer Bottom
5/8″ Solid Wood Dovetail Drawer
Pre-Drilled 5Mm Shelf Pin Holes
3/4″ Plywood Full-Depth Shelves
Natural Uv Finish
No Hidden Cams
Carb Compliant
Soft-Close Drawers With Extension
Blum Hinges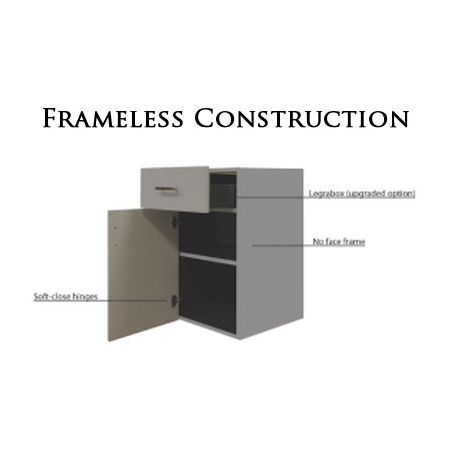 3/4" Thermofused White Melamine
5/8" Solid Wood Dovetail Drawer
Tandem Plus Blumotion Drawer Guides
Clip Top Blumotion 110° Hinge
3/4" Full-Depth Shelves
Built In Toe Kick
SOLLiD cabinets are 100% built to order. Every cabinet is built from quality materials, finished, hand assembled and individually inspected for quality. We are proud to offer an economical cabinet with a custom look. Please visit SOLLiD Cabinetry for information on their 5-Year Limited Warranty and Customer Care suggestions! SOLLiD products are constructed using the highest quality wood and come in a variety of finishes and styles. SOLLiD now has over 100 unique finishing options as well as door combinations. In 2011, SOLLiD's products were tested/approved by the KMCA (Kitchen Cabinet Manufacturers Association. The KMCA is a non-profit, voluntary trade association representing cabinet manufacturers in North America. KMCA is an advocate for the cabinetry industry since 1955 and has administered the performance standard for cabinets.
CUSTOM SOLLID CABINETRY INSTALLATION ESTIMATES