FREE SHIPPING NATIONWIDE | USE CODE MKTAKE10OFF FOR 10% OFF EVERYTHING ONLINE!
CUSTOM BARN DOOR INSTALLATION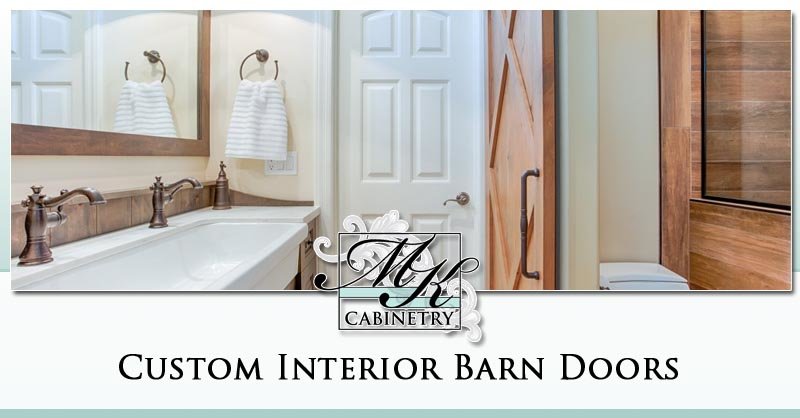 If you're searching for custom barn doors, barn door installation, interior barn doors, sliding barn doors, or closet barn doors near me in Phoenix, Mesa, Tempe, Scottsdale, or Gilbert MK Remodeling is here to help! We proudly to offer custom barn door installation to all of the east Phoenix Valley cities. Our team works with business and homeowners to create custom designs, fabricates the doors, and installs them in properties all over the valley. When you order your custom barn door from MK you choose the size, style, wood, stain, or paint. In addition we use only the highest quality barn door tracks, barn door hardware, and custom build each of our doors to fit your home.
Common search phrases used to find our cabinet installation services include: Cabinet installation Phoenix, cabinet installation services, kitchen cabinet installation, bathroom cabinet installation, cabinet installers near me, cabinet installers, cabinet installation near me, cabinet installer Phoenix and cabinet installation help near Phoenix.
We take your inspiration for the design of your custom barn door and fabricate it locally in the valley.  We only use the highest quality raw materials for the construction of our barn doors.  This is so they are durable and give you decades of service and enjoyment.  The hardware we use is also built to last and make it easy for you to open and close your barn doors.
When it comes to interior sliding barn doors for homes, MK Remodeling can help with single sliding and double sliding barn doors. Barn doors might have been the standard for the ranch and farm in yesteryear but today hundreds of property owners all over Arizona are falling in love with the charm of barn doors. They are great for bedroom doors, bathroom doors, or even sectioning off a living room. Our custom barn doors will be built to your size needs to cover the entryway you wish, whether it is single or double width. Read about the average cost of barn door installation.
SLIDING BARN DOORS FOR BATHROOMS
One increasingly popular option is to install sliding barn door for bathrooms. This space saver makes it easy to open the door and not have to worry about if there's anything that would be in the path of a traditional door that swings open. Privacy is always our priority with barn doors for bathrooms which is why we use tracks that keep them close to the wall so there's no gap, and offer barn door hook locks. Read more about our sliding barn doors for bathrooms.
CLOSET BARN DOORS
If you'd like to ditch the old french doors or sliding doors on your closet we can install sliding barn doors. The roller system on a closet barn door roll smoother and don't have issues following the track as many closet doors do. You'll simply be able to slide the barn doors left and right to open and close your closet with ease and unmistakably unique style. Add some flair to your bedroom closet by installing custom barn doors from MK Remodeling.
MK Remodeling offers custom barn doors in the East Valley Of Phoenix, Arizona including: Mesa, Tempe, Gilbert, Chandler and more. Interior barn doors are great for use in your home, from closets and bathrooms, to dens and living rooms. Custom barn doors can be made in nearly any style from modern and classic style to vintage and contemporary. Rustic barn doors are by far the most popular style in Arizona. We'll take care of everything including barn door design, customization and installation.
Custom barn doors offer many benefits to business owners and homeowners. Some of the most notable benefits of installing custom barn doors are their durability, space savings, low maintenance, and ease of operation. While barn doors have their origin on the range, they've found their way into some of the most luxurious homes and businesses in the valley. Read about the benefits of custom barn doors below.
PROFESSIONAL INSTALLATION
Barn door hardware needs to be anchored into the studs in your walls. This requires some skills in woodworking and knowledge about construction practices. In older homes some reinforcement may be necessary to support the weight of your barn doors. Newer homes have sufficient wall construction to easily anchor and support your barn doors. Our team provides peace of mind that your barn doors are installed correctly, will last, and be safe.
SPACE SAVINGS
Barn doors simply slide back and forth along a track system. They don't require the radius to swing open into a room which opens up space for furniture. This gives you more flexibility in how to place furniture in rooms in your home by not having to leave room for a door to swing open. In addition barn doors require less demolition than a pocket door that must be installed inside of a wall.
FABRICATED TO FIT
One of the biggest benefits to ordering barn doors from MK is that we custom build your doors to the size specifications you need. In door design that doesn't sit inside of a door casing there is a concept called "overlay". This is the overlap of the door past the sides and top of a door opening. In custom barn door design it is important to ensure that the door sizes provide sufficient overlay to provide privacy. If you're installing a barn door on a bathroom or bedroom this element becomes even more important.
SPECIFICALLY STYLED
Your home's woodwork and cabinetry likely have its own style and finish. When adding new elements such as barn doors it is important to match the architectural style and finish of other woodworking in your home. You can also choose a style and finish that contrasts these elements for a bold look. Either way being able to order a custom barn door gives you the power to select the style and finish that's perfect for your home.
EASY TO OPERATE
The custom barn doors we produce, and install are easy to open and close. We use quality track systems that are durable and don't require herculean effort to operate. With an easy push or pull the door will slide open or closed by virtually any member of your household. In fact barn doors are unique and become one of the fun elements that set homes or businesses apart.
RECEIVE A CUSTOM INTERIOR BARN DOOR QUOTE HERE!
If you live in any of the East Phoenix Valley cities and want to make your property unique by installing the rustic charm of a custom barn door, we can help! It does the job of separating a room with unmistakable style that won't be missed. They help build unique character for properties of all kinds and are incredibly durable. Receive a custom barn door quote anywhere in the East Phoenix Valley by giving MK Remodeling a call today at 480-677-9829!