Last year we talked about the evolution of the solar panel as it in regards to the roof and how panels will begin to look more and more like traditional roof tiles.
Well now they are here; a great example of design meeting function.
Tesla has developed solar roof tiles that look exactly like a traditional roof. Check them out: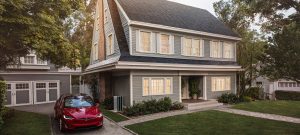 You can see more examples and concepts here: https://www.tesla.com/solarroof
These glass tiles aren't fragile either! In fact, they are more impact resistant to hail and other debris than other roofing materials.
While they are still very expensive, we would expect to see continued innovation and affordability in the future and hopefully some competition to spur even more progress in this field.