Kitchen Cabinet Buying Guide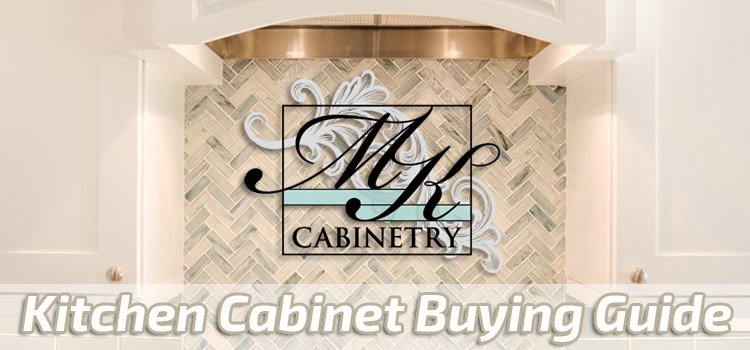 If you're remodeling your kitchen a big part of it is the kitchen cabinets. This kitchen cabinet buying guide will help you answer the question "What type of cabinet should I buy?". This guide helps you explore the world of new kitchen cabinets. It will help you choose the right design, layout, and style for your home.
Remodeling your home can be intimidating as you want to make the best decisions. It's possible with some foresight to make great choices for kitchen cabinets. This post will help you explore what to consider before buying your new kitchen cabinetry.
Buying New Kitchen Cabinets
Before you being shopping for your new kitchen cabinets, ensure that you have a plan for the renovation of your kitchen. You need to identify the priorities and goals. You also need to have a clear vision of what the kitchen will look like, after exploring different kitchen layouts and designs as well as planning storage and space. Lastly, you need a budget that you can work with.
Factors To Consider When Selecting New Cabinets:
Exact measurements of appliances involved with the new design
The budget
What type of layout will be used
Which improvements are standard for other homes in the area
How long will you be staying in the home?
Planning and Designing the Space
Kitchen cabinetry is a big part of designing a home and it remains an important part of measuring the value of the home. But, there is a lot to consider than the material, price and style selection. The most basic remodel can be quite costly and time consuming, so take the steps below before you begin considering products and materials.
Step 1 – Addressing resale issues
Keep your improvements consistent with the market data of other homes in the area. Think about if the space will be a resale, rental or a place that you will stay in and love for the rest of your life. It is vital that you decide the amount of time that you plan to stay in the home.
Step 2 – Determining the Scope
This really depends on your budget and the current condition of the kitchen. If your space just needs a bit of sprucing up without changing the major appliances or layout, replacing cabinet doors or painting the kitchen a new color can go a long way. When faced with cabinetry that isn't sturdy, new construction or layout issues, you want to have new cabinetry.
Step 3 – Deciding on a layout for the kitchen
Cabinetry for the kitchen is a convenient and practical work space in any home. Before selecting a look, begin with an accurate floor plan that has been scaled with the existing space with the windows, door and other types of architectural dimensions. The location of the utilities like water and sewer connections and electricity are important to note especially if the remodel will involve any spatial reconfiguration.
Plans need to establish the location of cook-top ventilation, gas piping, air and heating registers, and electrical outlets. You will need to confirm the exact measurements of any existing or new appliances that will in the new design, which include the range, hood, refrigerator, microwave, under-cabinet wine cooler, sinks, ice makers, and dishwasher before picking cabinetry.
Step 4 – Sketching the plan
Devise a rough sketch which arranges the appliances with the most efficient use of space. Be sure to keep it simple yet accessible.  There needs to be a good path between the work triangle – refrigerator, sink, and range. Placement of task centers, appliances, accessories, and storage as well as how often they are used need to be considered. Common kitchen layouts are straight, U-shape, L-shape, island, and galley.
Step 5 – Submitting Your Design
Unless you're a remodeling contractor by trade most homeowners choose to submit their designs to home remodeling companies.  With a rough idea of what a homeowner wants a professional kitchen remodeling consultant can help you make your dream a reality and avoid issues with building codes.  They can also help you avoid high cost remodeling decisions such as moving plumbing, electrical, and tearing down load bearing walls.  When it comes to replacing cabinetry these can be concerns, especially when you're changing the space considerably.
Submit your kitchen cabinet design or kitchen remodel design to get started – mkremodelingdesign@gmail.com
Conclusion
Modern designs have really changed the look of traditional arrangements which have created more open, larger spaces. But, these basic layouts are still quite beneficial when it comes to determining the relationship of appliances and how close they are to each other. Unless, you are an expert DIY'er, then it is best to get the help of a architect, kitchen designer, cabinet designer, interior designer or home center specialist to find the best effective plan for the space and find the size and specifications of the cabinets. Also, check out our other post called, "Bathroom Vanity Buying Guide".
MK Cabinetry is a family owned and operated business that provides whole home remodeling and cabinetry services in Mesa. We strive to create a client friendly experience from the design phase to the completion of your remodel; an experience that enhances your new space. Our priority is to realize our clients' vision and dreams through full collaboration during the project and providing the best value based on our client's budgetary needs. We have a proven record of satisfied customers and exceeding expectations.