FREE SHIPPING NATIONWIDE | USE CODE MKTAKE10OFF FOR 10% OFF EVERYTHING ONLINE!
KITCHEN CABINETS IN MESA, AZ

When you're searching for "Kitchen Cabinets Mesa" MK Remodeling is your source for the best designs, professional installation, and long lasting cabinetry that improves the look, functionality, and value of your home.

Design of cabinets covers both the look and functionality of your kitchen cabinetry. We have many years of experience designing kitchen cabinets and strive to offer the best solutions for both appearance and offering highly functional and organized kitchen storage solutions. Absolute customer satisfaction is our goal and it is achieved through helping discover each of our customer's vision for how they want their kitchen to be. We fully collaborate with client's preferences to provide the longest lasting, most beautiful cabinets that help fit each homeowner's budget. With the wide selection of colors and beautiful designs we feature from SoLLiD, we are sure to be able to help you achieve the kitchen cabinet look you are seeking.

We proudly carry the SOLLiD Designer semi-customizable cabinetry line. These cabinets are offered in a wide selection of distinct designs and many color options! This gives customers the look they want without having to wait for longer lead times that are common with fully customized cabinet orders. Once your Designer Series cabinets are ordered they will be built and shipped within 25 days. Every order is 100% build to order to fit your specifications. SOLLiD cabinets are hand assembled and only built from quality materials and inspected individually to ensure exceptional quality. These cabinets offer the custom look while staying affordable.
We are a SolliD cabinetry dealer who has 3 lines of cabinet doors. These are the designer series, value series, and frameless series. Each of the categories have wide selection of styles and colors that are excellent options for upgrading and remodeling your kitchen cabinetry.
Pots and pans tend to take up an enormous amount of room in our cabinets. Finding the right lid to pots when they are stored on top of each other can be frustrating and time consuming. Having a dedicated slide out shelf to hold all of your lids, pans, and pots makes your kitchen easier to keep organized and use. Shop Pot & Pan Organizers.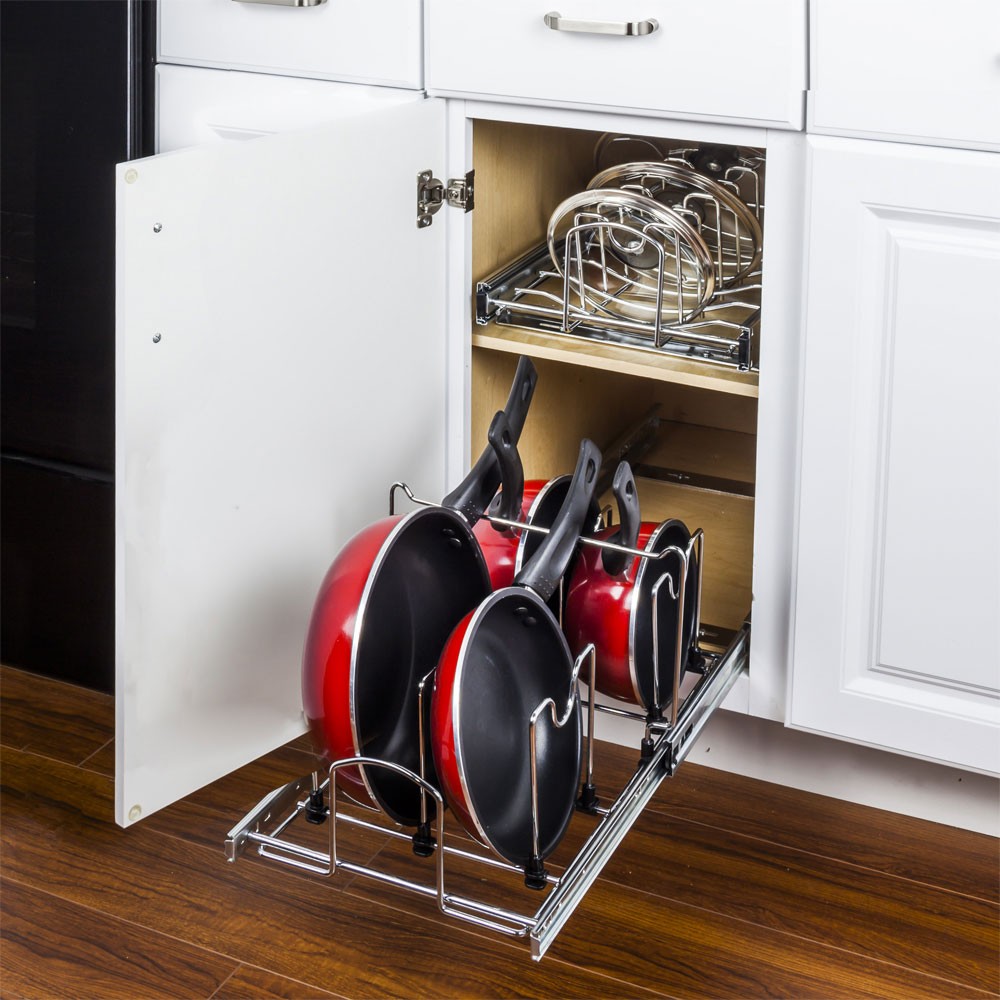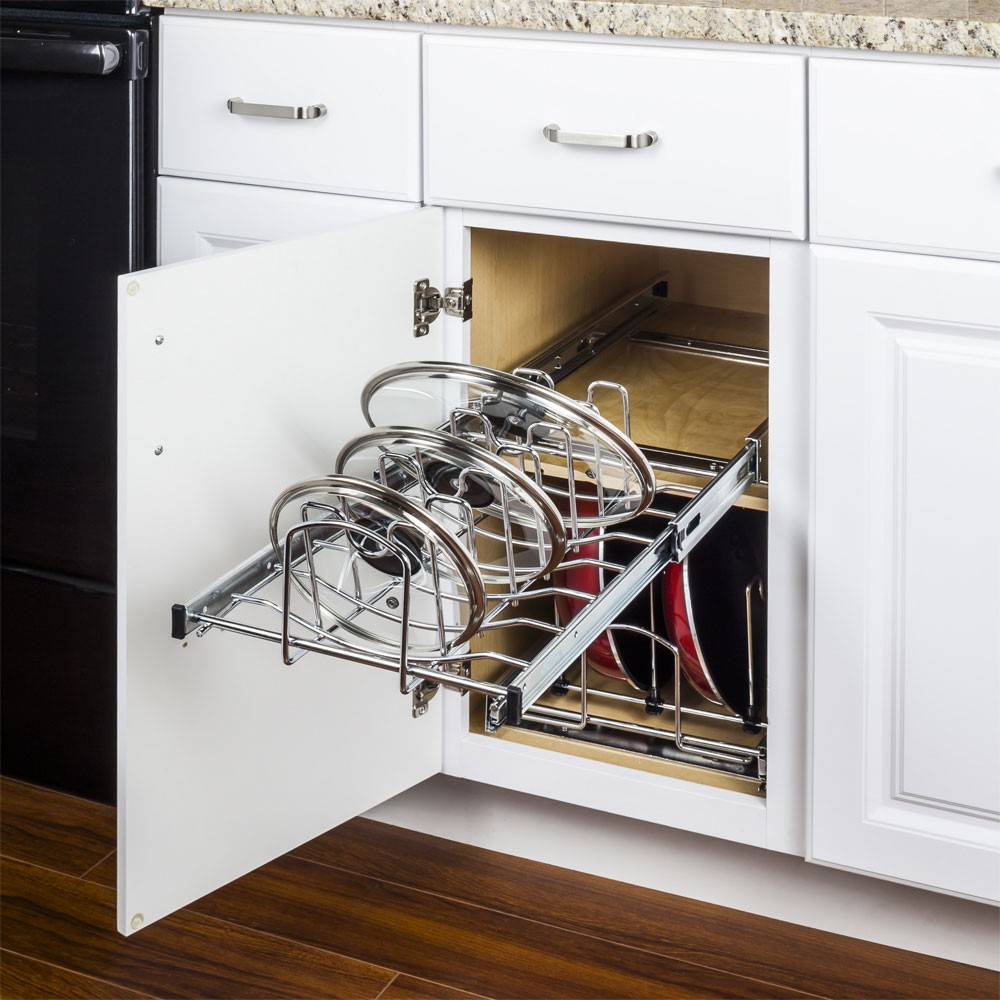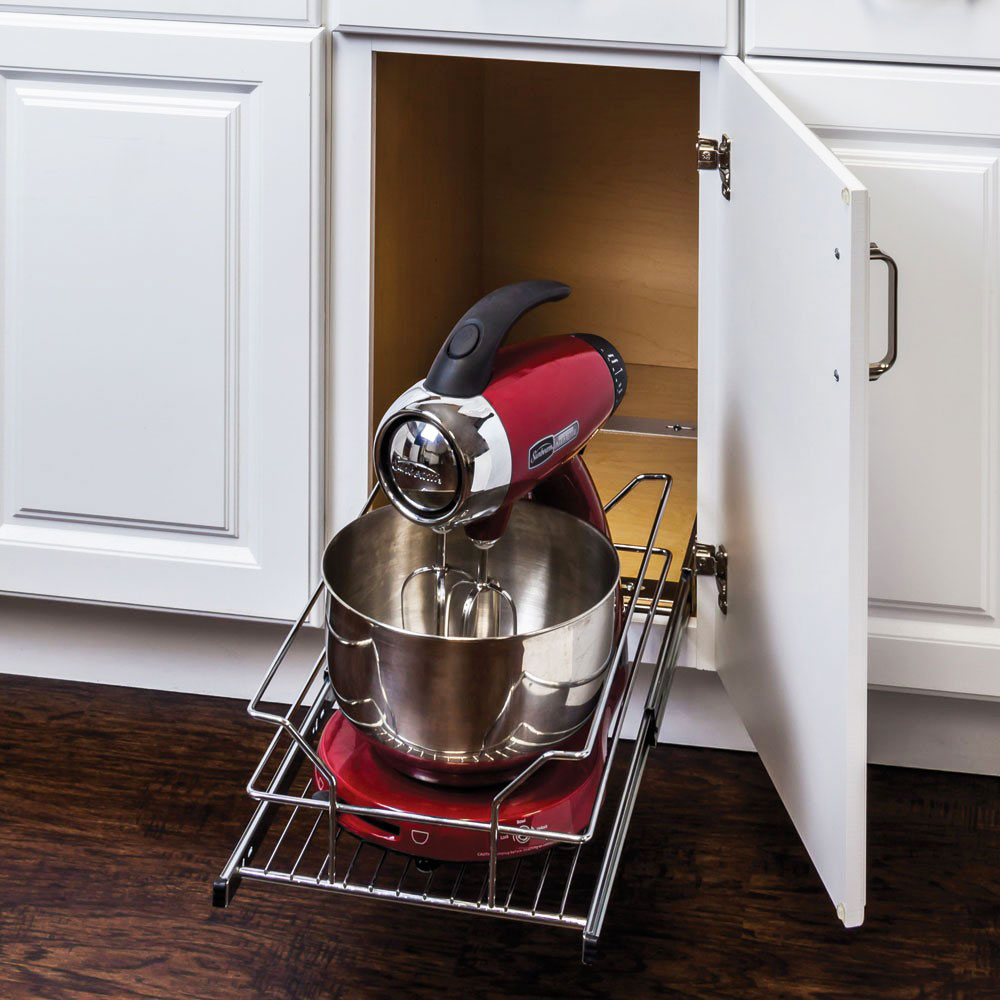 SLIDE OUT SHELVES & ORGANIZERS
The corner cabinets many times become underused dark corners of our kitchens. With slide out shelving designed for corner cabinets you will be able to make good use of these spaces and easily reach everything stored in them. In addition we offer under sink organizers which can keep your cleaners, dish soaps, and dishwasher detergents organized and easy to pull out and use. Shop Slide Out Shelf Organizers.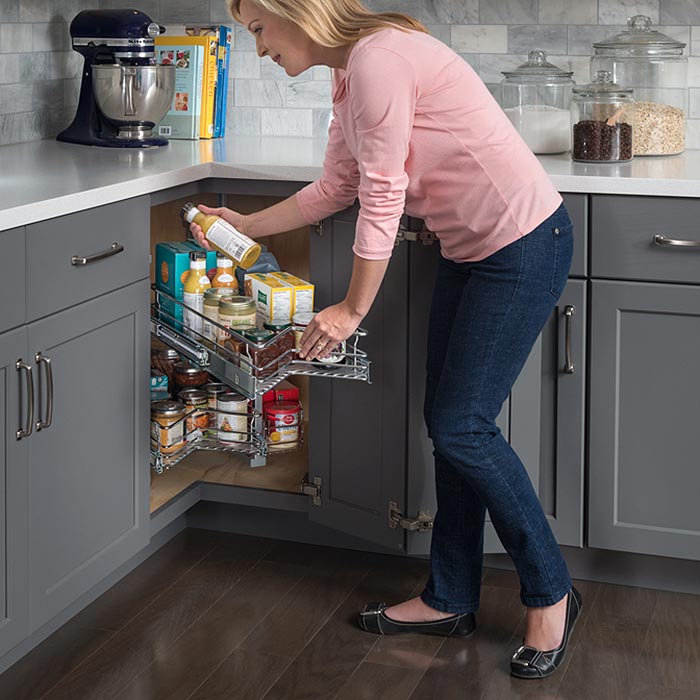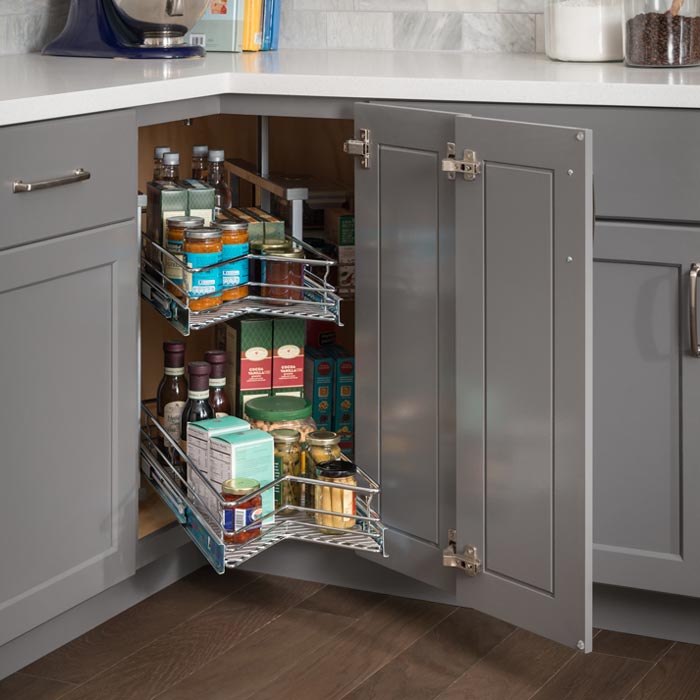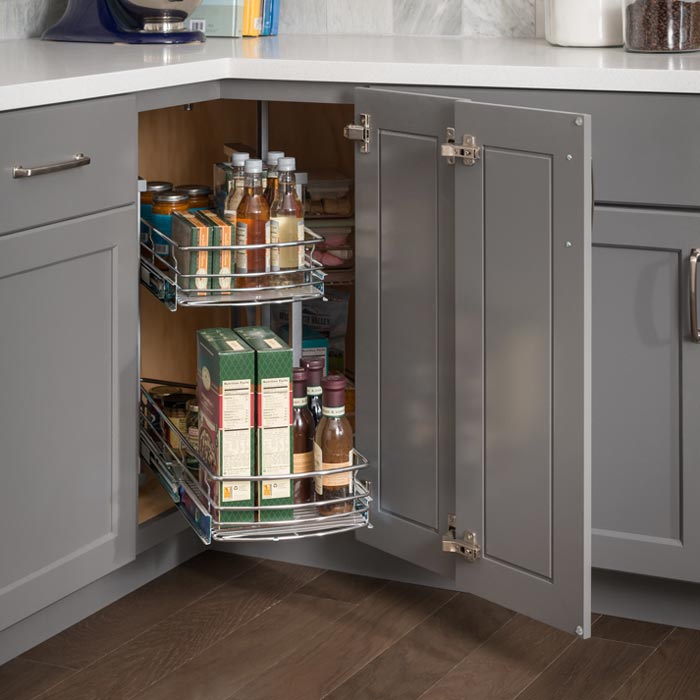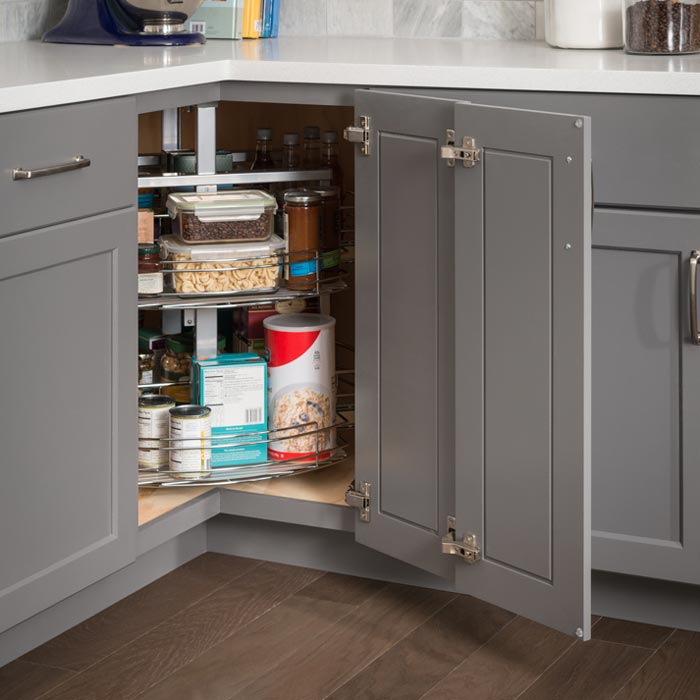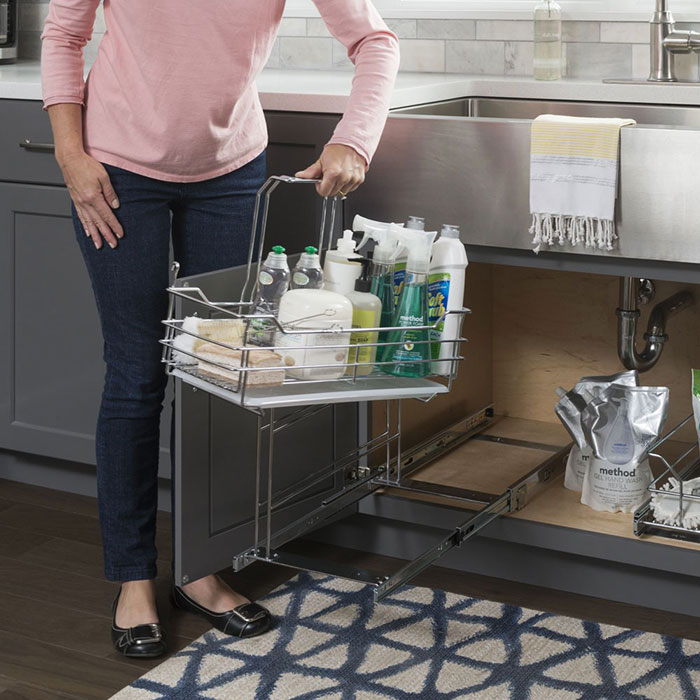 We carry the best options for your cabinetry project and offer experience and professional Cabinetry Installation. Our crew has many years of experience installing kitchen cabinets and pride ourselves on exceptional quality. When you choose MK Remodeling we are with your from choosing the design, through delivery, and complete the installation ourselves. With other companies they might not offer any installation, or might subcontract the install to a 3rd party. MK Remodeling performs installs ourselves and is present at every single cabinet installation.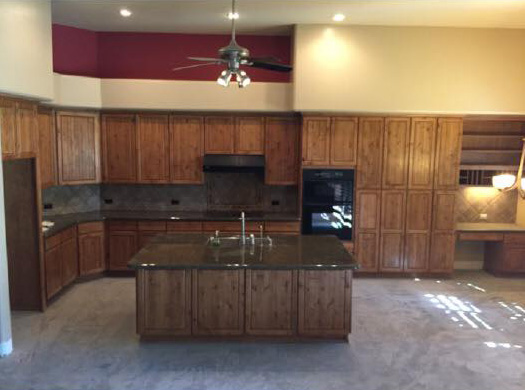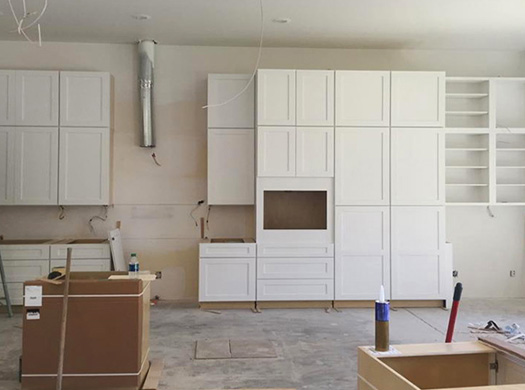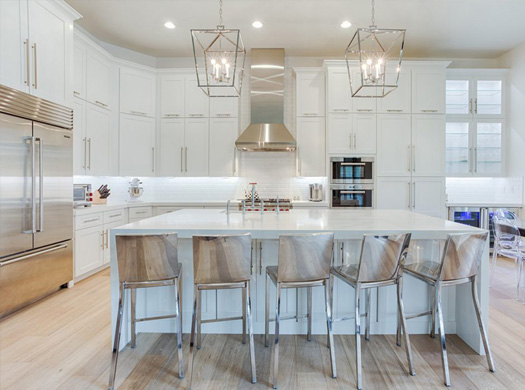 "I'm a General Contractor specializing in kitchen and bathroom remodeling. I've been using Sollid cabinetry for over two years and have been very impressed with their quality and service. With their wide variety of door styles and finish options I use their cabinets on over 90% of my projects. My clients and installers love their cabinetry."
"I bought a house with Sollid cabinets. I needed to repair some drawer slides and contacted them and they were able to help me out quickly and courteously even though I was not the original purchaser. I went to their warehouse in person in Tempe to pick up some parts. I truly appreciated their great customer service."
"I am cabinet subcontractor that generally sells only to builders. I recently started selling Sollid Cabinets and have been extremely satisfied with their products. My customers are very excited that I can offer them such a quality cabinet at such a reasonable price."
"I been using these cabinets for awhile now this company by far has top Quality Cabinets and hands down the best service they really care about there customers."
"They make a high quality cabinet, and have lots of options for add-ons. And we always get timely responses to our questions!"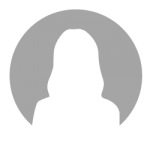 Sarah G
"Remodel has gone great! Constant communication, attention to detail and they actually listened to me and what I wanted . Super quality cabinetry. I would not hesitate to use them again for another job."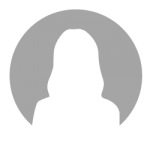 Stacey B
"Great job, pleasant to work with. This is our second job using MK and we will definitely continue to use them in the future. Good communication , a great team!"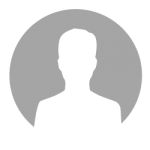 Nick B
"MK Remodeling is always a pleasure to work with. Honest, knowledgeable and very personable. We highly recommend them."
GET A CABINETRY QUOTE TODAY!
For a lot of our customers in Mesa and the surrounding cities being able to finance kitchen cabinets allows for home improvements much sooner, and gives greater level of options and refinement with a larger budget. Financing is a standard installment loan which is done through GreenSky Financial. Cabinetry loans can be done on either 6 or 12 month terms with no interest for qualifying clients.