Tips For Kitchen Lighting Design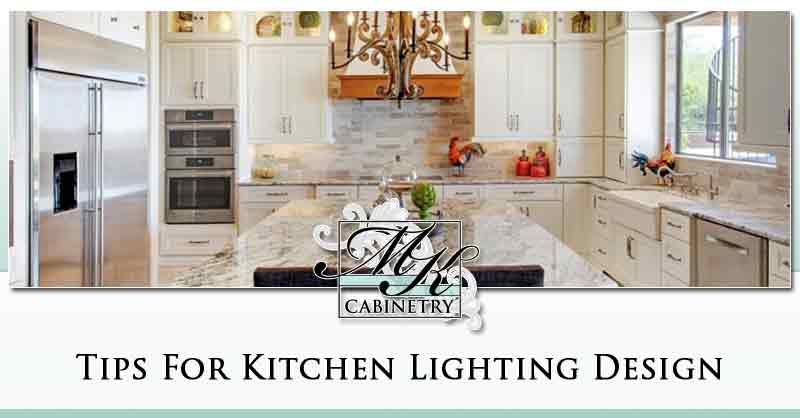 Gone are the days where a fluorescent light in the kitchen was considered enough light.  A single centralized light source causes shadows to get cast while using countertops and makes cooking harder.
Today kitchen lighting design is as important as rollout shelves and plenty of counter space.  LED kitchen lighting is taking a front seat in kitchen lighting design as it lasts longer and looks better than fluorescent lighting.
While adding LED lights to your kitchen is one of the leading kitchen lighting design trends you should work toward a layered appearance.  This is done by using various types of lights and fixtures.
Types Of Lighting To Layer
Create varied layers of lighting for your kitchen using a combination of types of bulbs and fixtures.  The types of fixtures start at the roof and ceiling all the way to the floor under your cabinets.  This layered effect helps avoid having dark unlit spots in your kitchen.
Skylights
In addition to natural light coming in windows solar tubes and skylights are a great way to bring in sunlight.  Sunlight brings out the colors from your kitchen's countertops, cabinets, backsplashes and flooring.
Pendant Lighting
For kitchens with vaulted ceilings pendant lights provide valuable ambient lighting.  They also add visual interest in the wide open space that vaulted ceilings provide.  You can choose to have one large pendant light to make a statement or have a bunch of smaller pendants.  A fun way to stage your pendant lights can be hanging them at different levels.
Ceiling Fixtures
Ceiling fixtures are still useful in kitchen lighting design as your general primary light source.  They are typically either suspended on a small stem which is called semi flush mount, or they are installed flush mount against the ceiling.
The long shop style fluorescent bulbs are gone and have been replaced with longer lasting warmer LED lights.  They can run for up to 50,000 hours and provide a more natural warmer quality of light in your kitchen.
Recessed Lighting
Recessed lights provide light for kitchen islands, sinks, countertops, and pantries. When placed around the room you will remove shadows when you're trying to work at your island or on countertops.  Recessed lighting also removes shadows from corners and casts light to highlight your kitchen's beautiful cabinetry and countertops.
Recessed lighting should be placed about every 5 feet of space in the ceiling.  Task lighting recessed lights are goof for work areas while wider angle lights are good for your kitchen's ambient lighting.
Over Cabinet Lighting
Over cabinet lighting is more about providing styled light than functional light in your kitchen.  The indirect lighting that will be reflected down from your ceiling provides a soft light that's great to leave on all night long.  In fact you can leave LED over cabinet lights on all night for about $3 dollars a year.
Under Cabinet Lighting
More and more homes are being outfitted with fine stone and marble countertops.  Under cabinet lighting provides light to illuminate these areas and provide more task lighting for dicing, cutting, mixing and rolling.  They light up your backsplash and call attention to some of the finer details in your kitchen.
Under cabinet lighting comes in 3 main types: LED strips, halogen lights, and fluorescent bulbs.  LED strips are popular as they are easy to install and are very energy efficient.
Toe-Kick Lighting
Toe-kick lighting provides the final floor level layer of lighting that can act as a night light.  Many homes choose to wire these to motion sensors, so they automatically provide soft comfort lighting for those midnight trips to get a glass of water or raid the fridge.
If you're thinking about remodeling your kitchen in Arizona, MK Remodeling can help!  We take care of every element of kitchen remodeling from the lighting design to cabinetry, countertops, and more!  Work with our kitchen remodeling designer to get more space, better lighting, and finer surfaces that look and work better for your home today.