Bathroom Vanity Buying Guide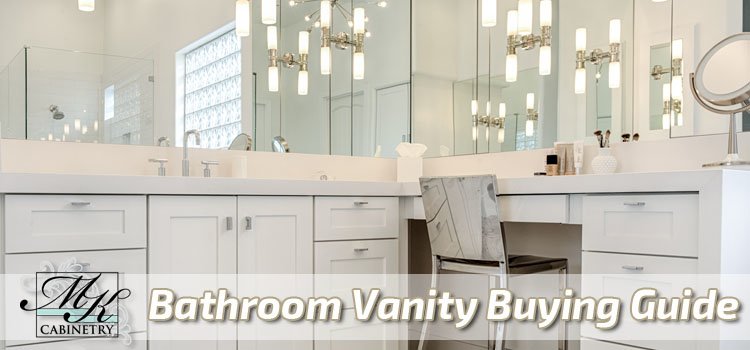 Are you searching for a "bathroom vanity buying guide" while trying to figure out what type of bathroom vanity you should buy? If so, this buying guide from MK Cabinetry should help! Bathroom vanities come in all shapes, sizes, colors and styles.  Knowing the standard bathroom vanity height and bathroom vanity depth will help you buy a vanity that'll fit your needs and space.
Buying New Bathroom Vanities 
Are you wanting to give your bathroom a sprucing up or perhaps a complete makeover? A vanity can determine the look of a room. It doesn't matter if you are going modern, traditional, or somewhere in the middle, we can help to find the best vanity for your bathroom. When selecting bathroom vanities for remodeling you should consider factors like style, size and layout.
Before you being shopping for your new bathroom vanities, ensure that you have a plan for the renovation of your bathroom. You need to identify the priorities and goals. You also need to have a clear vision of what the bathroom will look like, after exploring different bathroom layouts and designs as well as planning storage and space. Lastly, you need a budget that you can work with.
Measure Your Bathroom Space
It is vital that you measure your space out. Below are some factors to take into consideration.
Ensure that you are leaving room for door openings such as shower and entry as well as trip. Each space will be different, so open vanity drawers and doors to measure against the measurement in your bathroom. You want to ensure that your vanity won't disrupt the traffic flow or be too big.
Check plumbing locations. This could determine how wide your vanity needs to be. Moving plumbing around can cost.
Consider the existing features like electrical outlets and switches as well as mirrors.
Then measure vanities with tops and just the cabinets. Consider who will use it and your storage needs. The standard bathroom vanity height is 31 inches, but it is about your preference. Shorter countertops are great for children while Taller adults may want a higher countertop.  Bathroom vanity depth from the wall ranges between 17 inches and 2 feet.  Which size you choose will vary depending on who will use it and any limitations on size for smaller bathrooms.
Depth: 17 – 24 inches
Width: 12 – 84 inches
Height 31- 35.5 inches
If you plan to purchase a vanity without a top, you will need to measure for a countertop. Measure the depth and width of the selected vanity. The vanity will need to be 1 inch deeper and wider than the cabinet itself.
Be sure to add room for fillers if you will be using them. A filler is a piece of wood next to a vanity to close a gap between the vanity and wall.
Good To Know
For building codes, you need to allow 18 inches or more from the edge of the cabinet to the center of the toilet.
Bathroom Vanity Styles
A vanity will come in two styles: built-in or freestanding. A freestanding vanity is great for small spaces and com in a variety of styles. A built-in vanity is better for large spaces, which offer more storage and countertop space.
You will also need to pick if you want to buy a vanity without or with a top. Installing a vanity that comes with a top will be much easier, but the downside is you will be limited for the top that comes with it. But, if you plan to purchase vanities that do not have a top, then you will have a chance to pick the material. Countertops are available in various materials such as natural stone, cultured stone, glass, or solid surface.
Explore Bathroom Vanity Options
The vanity will define your bathroom. Since bathrooms are separate from the rest of the house, you can change up your style. If your home is traditional, go for a modern look for the bathroom. Consider the following before you buy:
Finish and Color
Vanities can be made of wood, glass or metal and can come in espresso, mid-tone brown, black or white. If you are feeling spunky, you can paint a wood cabinet of your choice.
Hardware
Check out the description on the vanity that you like. Some will come with the drawer and door hardware.
Size
If the bathroom is small, a single vanity may be the only option. Bigger bathrooms will allow you to do one large vanity or break it up to two small vanities side by side.
Storage
Will the vanity be in a powder room or the master bath? A child's or guest bath? Consider your needs. If plan to use this bath constantly, then you want plenty of storage space.
Wood type
Type of wood can range from pine, or birch to expensive materials like maple, oak, Asian hardwood, and more.
Single & Double Sink
Depending on the available space you may consider either a single or double sink vanity for your bathroom.  Double sink vanities are popular as they give space for two people to get ready in the morning at the same time.
Other Vanity Considerations
Coordinating Collections
To create a matching look in the bathroom, look for a vanity that is sold with a matching mirror.
Faucets
Many vanities will have pre-drilled areas for faucets. The most popular openings are for widespread or center set faucets.
Centerset Faucet: They will have 4 inch predrilled 3-hole installation basins. They will combine valves and spout on a single unit. Centerset faucets may have two handles or a single mixing lever on a 6-inch plate.
Widespread faucets: These particular models will have a spout with cold and hot water handles. All pieces are separated. Widespread faucets are available with 6 to 16 inch drilled 3-hole installation basins.
Vanity Lighting
Being able to see clearly with quality vanity lighting is a big part of having a bathroom that's comfortable and welcoming.  With the right lighting shaving your face or applying makeup will be easier and more precise.  Shed some light on your morning routine and consider the illuminating possibilities of quality bathroom vanity lighting.
Conclusion
Modern designs have really changed the look of traditional arrangements which have created more open, larger spaces. But, these basic layouts are still quite beneficial when it comes to determining the relationship of appliances and how close they are to each other. Unless, you are an expert DIY'er, then it is best to get the help of a architect, kitchen designer, cabinet designer, interior designer or home center specialist to find the best effective plan for the space and find the size and specifications of the cabinets.
MK Cabinetry is a family owned and operated business that provides whole home remodeling (Kitchen & Bathroom Remodeling) and Custom bathroom vanities in Mesa. We strive to create a client friendly experience from the design phase to the completion of your remodel; an experience that enhances your new space. Our priority is to realize our clients' vision and dreams through full collaboration during the project and providing the best value based on our client's budgetary needs. We have a proven record of satisfied customers and exceeding expectations. Also, check out our other post called, "Kitchen Cabinet Buying Guide".