How Much Does It Cost To Install A Bathroom Vanity?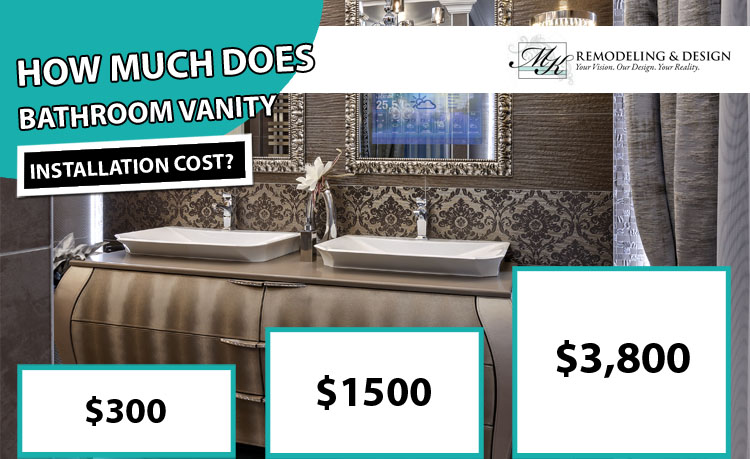 The average cost of a bathroom vanity installation is $1,500 with average prices ranging from $300 to $3,800 in the US for 2020, according to HomeAdvisor.
Disclaimer – This is not an actual quote. Contact MK Remodeling today to get a quote for your project.
Average Cost of Bathroom Vanity Installation
Installing a new bathroom vanity costs $300 to $3,800, about $1,500 on average. The individual units come in two types: premade vanities ranging from $100 to $2,600, or custom built at $500 to $2,800. The installation will run from around $200 to $1,000 per vanity.
According to Porch, "the cost to install a bathroom vanity starts at $344.68-$524.93 per vanity. Your actual price will depend on job size, conditions, finish options you choose."
A bathroom vanity comprises of a sink, faucet and a cupboard to cover up the plumbing and for storage. Some vanities will usually feature a mirror and cabinets above the sink. There are a lot of different designs and sizes to suit your home and lifestyle. You can also buy prefabricated or you can hire a contractor to build a custom one.
Given the laborious effort needed to build and install the individual components, most homeowners hire professionals to do the work. This is particularly important if they have to change their plumbing to fit the new vanity.
Given the physical effort required to build and install the individual components, you should hire a pro for the work. This is especially important if you must change your plumbing to fit the new vanity.
The cost to buy a premade vanity ranges from $100 to $2,600. These costs vary based on size, the materials used and added elements. Typically, premade vanities will come with a precut countertop. The top can be the biggest factor in the vanities total cost. Models with cultured marble may run a little less than styles with features granite, marble slab or quartz.
Premade Vanity Prices by Size
2.5′ Single
4′ Single
5′ Single
5′ Double
6′ Single
5′ Double
Larger Double
$100-$500
$400-$700
$500-$1,800
$550-$1,900
$800-$2,100
$600-$2,200
$1,500-$2,600
Custom Bathroom Vanity Cost
Hiring a professional to build your vanity runs $500 to $2,800. The range includes the construction of the unit but not its installation. Unlike pre-made vanities, custom styles typically require you to pay separately for the top. This method typically requires the following:
Build a Custom Vanity: $500-$2,800
Countertop Material: $5-$135 per square foot
Installation: $200-$1,000
Cost to Hiring a Plumber: $45-$200 per hour
A lot of pros can design, build and install the cabinet for you, but you might have to arrange for a plumber individually.
According to costhelper, "Semi-custom or custom bathroom vanities from kitchen and bathroom showrooms or cabinet makers can cost $75-$250 a square foot plus possibly another $50-$100 a linear foot for finish work, or $500-$2,800. "
Additional Installation Costs
If your bathroom is not built to suit the vanity already, you might need to hire a professional to do additional work. These jobs include:
Cost of Changing a Single Vanity to a Double Vanity
A double vanity costs around $750 to $3,200 for the new vanity and it's installation. If you don't have the square footage available to you, you might consider hiring a professional bathroom remodeler to design and build the space. You will also have to hire a plumber at around $45 to $200 per hour to run new plumbing lines to the second sink and move the current line if required.
GET A BATHROOM VANITY INSTALLATION QUOTE IN PHOENIX & MESA!