Cost To Remove Hardwood Floors
Cost to Replace & Remove Hardwood Floors
According to HomeAdvisor, the average cost to replace hardwood floors is about $4,531 with average prices for hardwood flooring replacement ranging from $2,498 to $6,746 in the US for 2021.
HomeAdvisor says, "Hardwood flooring costs most homeowners between $2,498 and $6,746 or an average of $4,531. Installing wood floors costs an average of $6 and $22 per square foot."
Their article says that the lowest cost you can expect to pay for hardwood floor replacement is about $1,000. The highest you could expect to pay is about $11,000. Their data is based on real data reported by over 8,352 members.
Cost to Remove Hardwood Floor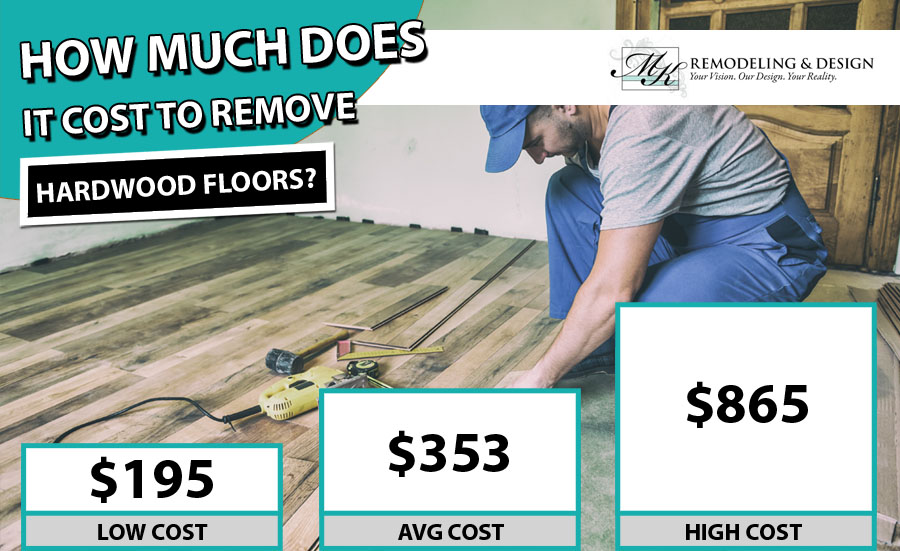 The cost to remove a hardwood floor is about $353 with average prices ranging from $195 to $865 in the US for 2021 according to RemodelingExpense. The average cost per sq ft for hardwood flooring removal is about $3.52 per sq ft with average prices ranging from $1.95 per sq ft to $4.33 per sq ft.
Expect to pay more to take out old hardwood, laminate or tile floor that needs more work for disassembly and removal. Installers will also charge you more to clear away your furniture. Bear in mind that you will also have to pay more if your subfloor requires repairs — a cost that in the unknown until your old flooring is removed.
Why Choose Hardwood Floors?
Wood flooring cost is one of the highest in the flooring industry. Homeowners pay more for wood floors than other alternatives such as laminate, carpet or tile. Despite that, wood floors are a #1 choice because they last for many years without needing continual replacement.
Of all flooring options, wood flooring is popular among homeowners and for very good reason. Wood floors, particularly hardwood, have exceptional durability and a truly genuine look to the home. Wood floors are also very versatile, with their unique grain patterns of the original tree being revealed in the floorboards.
How Much Does Flooring Material Affect Price?
There are a lot of options for flooring material – this is the most essential variable. Low-grade woods like ash, pine or maple will be the least costly. You can expect to pay more for high-grade wood like oak or Brazilian cherry.
Flooring material is a large market – retail prices are always affected by the time of year, inventory and other types of issues. Some of these discounts might bring low-quality wood that installation companies don't want to install.
You can also decide on prefinished flooring, which is faster and easier to install. However, prefinished flooring will cost more per square foot than unfinished flooring, so that may offset the installation cost. Be sure to address this option and the final cost with your flooring company.
To determine how much you can anticipate spending on a new wood floor, you must first realize the cost per square foot including materials and installation. If you are thinking about the more conventional wood floors that have plank widths of three inches or less, the cost depends on if you're installing softwoods or hardwoods.
GET A HARDWOOD FLOORING INSTALLATION QUOTE IN MESA HERE!