How Much Do Barn Doors Cost?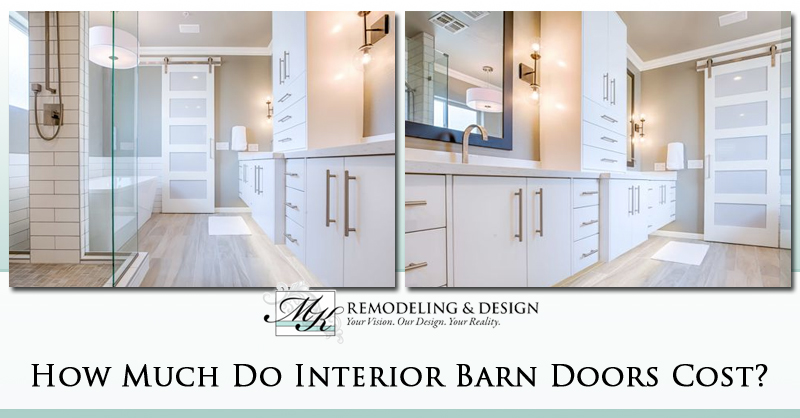 According to HomeAdvisor, a sliding barn door costs about $900 with average prices ranging from $550 to $1,250 including installation costs. MK Remodeling builds custom barn doors for homes and commercial locations in the Phoenix Valley. Disclaimer – This is not an actual quote. Contact MK Remodeling today to get a quote for your project.
Contents In This Post:
Interior Barn Door Installation Cost
You can have a barn style sliding door that functions as an entrance to a garage or barn and even as an interior design sliding door, giving your home that traditional appearance. The barn style sliding door gives an advantage in that it does not take up any additional space, for it will slide along the wall instead of needing more cavity space inside of a wall. The advantage of exterior sliding doors means no more having to dig them out of the snow in the winter to get the car out of your garage. Also, sliding garage and barn doors are less in weight than your traditional doors, which prevents the tracks from being warped
1. Barn Door Hardware Cost
Whether you get an interior or an exterior barn style sliding door, it is going to require a track to slide on and additional hardware. Their cost will depend on how much weight it will be able to hold, its durability, size, it is a one or a two door (the number of tracks will be needed), and whether it is intended or exterior or interior usage for those who use it as an interior opening generally have more decorative ascents
A sliding barn door can be built for just the cost of the lumber to build it, however, the track system itself will be an additional cost of $100 to $2,000 dollars, depending on the weight capacity, size, style, and materials needed.
The lightweight aluminum, in a plain track system and excluding the doors will begin with a cost of between $100 to $200 dollars and holds between 75lbs. to 125 lbs. If you are wanting a basic package that is going to include everything needed in one deal, depending on the intended weight capacity, materials, and how many tracks you are wanting, it will run between $300 and $2,000 dollars.
2. Cost Of The Barn Door
A standard size of lightweight sliding doors (on a track system) will run between $100 to $250 dollars. If you are wanting the appearance indoors of an exterior barn sliding door the cost will be between $300 to $700 dollars for custom and over-sized orders having glass inserts. For models that are entirely wood they run between $500 and $1,000 dollars.
3. Barn Door Installation Labor Cost
These doors can generally be installed within a couple of hours by the use of a ladder, carpenter's level, and a power drill. This is a process requiring assistants in lifting the huge doors onto the tracks, which includes an additional cost for the handyman of around $100 to $300 dollars for the labor of installation, this will depend on the local going rates, size of doors, and the number of doors. If in an urban area, the cost of having them installed by a carpenter could be higher.
4. Total Cost Of Barn Door Installation
Bringing a total cost for your track and door, not including the cost of installation and labor to $200 and $1,000 dollars, and this is for the simplest interior barn sliding door, however, if you're interested in rugged exterior doors it is going to run between $500 and $2,500 dollars. Located in Washington, Uncle Howard's is selling the classic barn doors, which include the hardware needed, for around $1,100 and $1,400 dollars, plus additional for shipping.
What should be included
Sliding barn doors leave one side of the entry way visible and the other side will not be. They are installed on a railing that slides across the opening of the entryway (similar to that of a pocket door). These doors can come in a size large enough to cover a barn or a garage door opening and also as small as an interior standard size door. They are generally more heavier and have sturdier hardware than your pocket doors, this keeps the door from being able to swing at the bottom.
It is fairly easy to install sliding barn doors, there is not any demolition needed to the walls like with pocket doors. However, the bracket that the hold the tracks does have to be mounted with wall studs, or else ceiling joists. Never install sliding barn doors in an area where they will be opening and closing across windows, electrical outlets, pictures, or any other kinds of things.
Sliding barn doors comes in a wide range of styles. You can check-out the examples given on the uses of interior and exterior barn style sliding doors online at Remodelista.com or Chic Coles Blog.
Major Advantages of Barn Doors
Barn doors aren't just for the farm, they offer homeowners great advantages.  Chief among the advantages is making a bold and unique statement.  Set you  interior space apart from the rest by having a modern or rustic door designed and installed.  They also save space, increase accessibility, make your home more versatile, and can even increase the value of your property.  Read more about each advantage below.
1. Individually Unique Expression
One of the biggest advantages of a barn door in your home, business, or restaurant is making a unique impression.  Regular doors are a dime a dozen.  Stand out from the crowd and appoint your property with a unique custom barn door that helps tell your style story.
2. Big Space Saver
Doors swing out or in and the path needs to be kept clear.  Hallways in your property can feel cramped in doors open out into them.  Rooms don't have as much floor space with a regular door either.  A barn door slides against the wall and leaves you more square footage for your furnishings.
3. Improves Accessibility
Barn doors improve the accessibility of your home.  Since a barn door doesn't need to be close every time you enter or exit a room you can leave them open.  This makes doing a chore where you've got to keep going in and out of a room such as laundry a snap.
4. Makes Properties More Versatile
Whether your considering a barn door for your business, restaurant, or home installing barn doors improves versatility.   In homes open floor plan layouts are popular.  There are times where you'd like to section these ares off during gatherings and holidays.  Barn doors make it easy to open and close to provide a barrier or create more space for your needs.
5. Increased Home Value
As with any home improvement a barn door can help increase the value of your property.  The more refinements your home has that make it easier to use, more beautiful, and convenient the more your house will be worth.  Premium features such as barn doors over regular doors sets homes apart in the market.
BARN DOOR INSTALLATION IN THE PHOENIX VALLEY
If you have a home, business, restaurant, or other commercial space where you'd like a custom barn door installed, MK Remodeling can help!  We custom build interior barn doors to fit your space, your style, and your budget.  Add some unique flair to your property and visual appeal with a barn door from MK Remodeling. To get a barn door installation quote, please call 480-285-6443.