How Much Does Tile Installation Cost?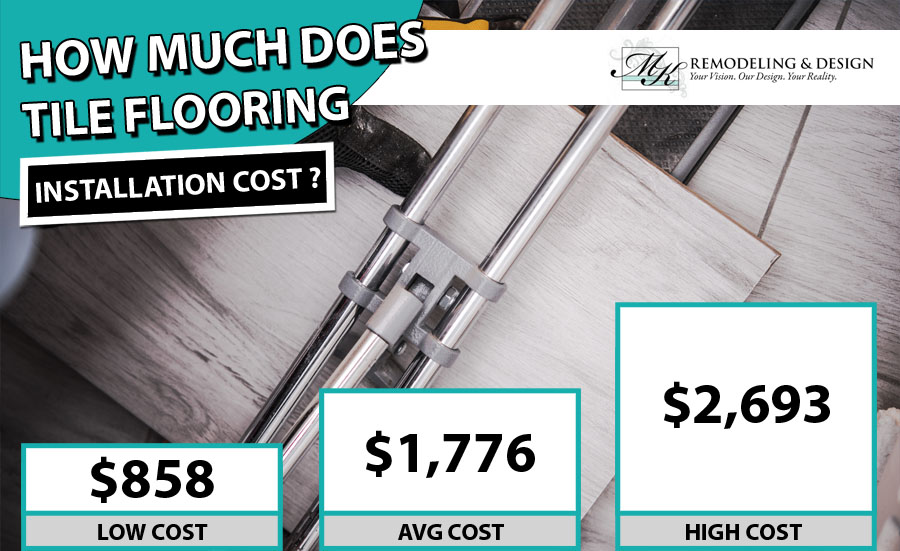 How Much Does Tile Flooring Cost? Tile flooring costs about $1,776 with average prices of installation ranging from $858 to $2,693 in the US for 2020, according to HomeAdvisor. The average cost per sq ft for tile flooring installation is about $7 with average prices ranging from $4 per sq ft to $10 per sq ft.
Disclaimer – This is not an actual quote. Contact MK Remodeling today to get a quote for your project.
Most homeowners can expect to spend between $861 and $2,688 or an average of $1,769 to install tile flooring. For almost all tile projects, the costs range around $13.50 to $83 per square foot. Generally, homeowners pay about $15 to $20 per square foot for installation and materials. The average cost is $3,500 for a countertop and around $1,500 for a backsplash. That includes an average of $5 to $10 per square foot for the tile, and around $4 to $14 per square foot for a professional to install it.
Tile is one of the most adaptable floor, countertop and wall materials readily available for today's homeowners. They have a special coating that makes them impervious to water or embedded dirt and easy to maintain and keep clean. It's long life is typically the number one reason most homeowners opt to install tile. With proper installation from a skilled and experienced tiler, it can last up to 20 years without any major repairs.
Cost data is based on real project costs as reported by 10,862 HomeAdvisor members.
Tile Installation Costs Per Square Foot
Item
Tile
Labor
Other Materials
Old Surface Removal
Area Preparation
Total
Per Square Foot
$0.50-$15 Indoor – $1-$35 Outdoor
$4-$32
$6-$9
$2
$1-$5
$13.50-$63 Indoor – $14-$83 Outdoor
To install tile in your home, the range is about $13.50 to $63 per square foot. If you want tile installed outdoors, you may pay up to $14 to $83 per square foot. Most of the expense is for materials and labor.
Tile Material Cost Per Square Foot
Material
Porcelain
Ceramic
Porcelain Wood Tile
Rectified Tile
Slate
Glass
Indoor / Outdoor
$3-$10 / $3-$35
$0.50-$7 / $1-$35
$3-$12 / $3-$35
$0.50-$15 / $1-$35
$5-$15 / $5-$35
$5-$15
When thinking about a tile project, homeowners can decide on anything from premium, designer tiles to the least costly ceramic. Before starting your search for the perfect style of tile, consider a few factors such as its composition, quality, strength, what it is to be used for and its placement. Some tile is too weak or thin to use for flooring, but are perfect for backsplashes, and in some cases, countertops.
Cost of Porcelain vs Ceramic
The cost of ceramic tiles ranges from $0.50 to $35 per square foot. Ceramic is less durable and softer than porcelain, so they usually cost less. Porcelain tiles will cost about $3 to $35 per square foot. Thin porcelain tends to hit the higher side of the cost range. They go through a special procedure that provides extreme durability with minimal thickness.
Installing Tile Labor Cost
The labor costs for tile installation can range from $4 to $32 per square foot. Flooring installation goes from $4 to $14 per square foot, in comparison to $25 to $32 per square foot for backsplashes and countertops. Even though this expense is typically set by the square foot, some pros may charge by the hour. In that case, hourly rates go from $30 to $120, depending on the size and the complication of the project.
Cost Factors for Installing Tile
Item
Other Materials
Old Flooring Removal, Countertop or Backsplash
Cost To Repair A Sub-Floor
Cost To Install A New Sub-Floor
Find out if the surface is level and utilize a self-leveling compound if necessary.
GET A TILE INSTALLATION QUOTE IN MESA HERE!