2020 Bathroom Remodeling Costs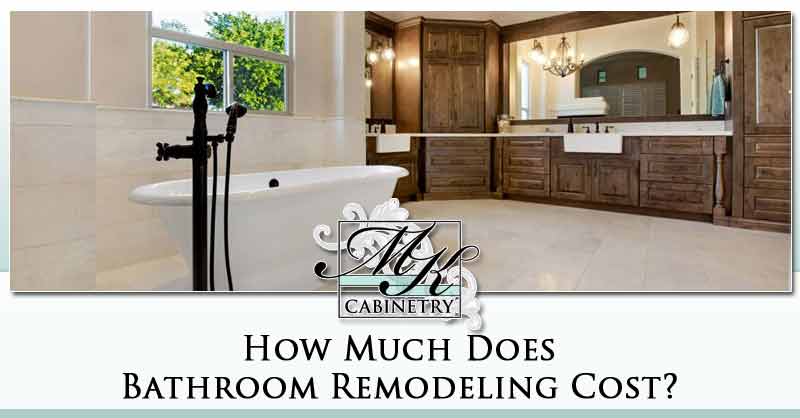 The average cost of bathroom remodeling is $10,284. Bathroom remodeling costs range from $2,500 to $25,000 in 2020 according to HomeAdvisor. Disclaimer – This is not an actual quote. Contact MK Remodeling today to get a quote for your project.
In this post you will learn about how much bathroom remodeling costs and what you can expect to pay for remodeling individual elements in your bathroom. Planning is the first step in any home improvement project and bathroom remodeling is no different.  The size of the bathroom, which elements will be replaced, and many other cost factors will vary from project to project.  
Average Cost To Remodel A Bathroom
The cost of remodeling your bathroom ranges from the low end around $2,500 dollars all the way up to $25,000 dollars or more.  How much each bathroom will cost to remodel depends on the budget, size of bathroom, and style. While the average cost to remodel a whole bathroom is around $10,284 dollars it can be done for much less.

The following are some of the most popular items that are replaced during bathroom remodeling.  The cost ranges listed are average prices and can go much lower or much higher depending on the size, style, and preference of each homeowner.  This list covers the basic to mid range.  Luxury options will cost more.
Bathtub Installation: $450 – $3,250
Cabinetry Installation: $1,150 – $6,000
Countertops Installation: $950 – $3,500
Flooring Installation:  $850 – $2,750
Lighting Installation: $150 – $1,500
Shower Installation: $500 – $3,750
Sink Installation: $200 – $2,000
Toilet Installation: $400
Walk-In Tubs: $5,000 – $10,000
Master Bathroom Remodel: $5,945 to $25,000
5×7 Bathroom Remodel: $14,109 to $18,864
Small Bathroom Remodel: $1,250 to $3,500
These average costs should help you get an idea of what it might cost to replace the elements of your bathroom you want to renew and refresh.  It is important to remember you don't need to remodel every element of your bathroom to give it a new look.  A lot of homeowners will take on the bigger projects first and choose to spread out the remodeling process.  Delaying the installation of new lighting fixtures, sinks, or toilets are a common way of reducing the cost of remodeling.  Refacing bathroom cabinets or refinishing them is another popular way that homeowners can save money on their bathroom remodeling project.
In small to medium sized bathrooms where the essentials are remodeled you can cut the budget down to around $3,000 – $7,000 depending on the fixtures and how much you want to remodel.  Homeowners that want to transform their outdated master bathrooms into a modern oasis can expect to invest more.  A master bathroom remodel that features premium options for showers, tubs, fixtures, flooring, and more can add up to $15,000 to over $20,000 in a hurry.  While there is a very large range of costs to remodel the average homeowner spends anywhere from about $5,500 – $14,000 to remodel their bathroom.
Breakdown Of Cost Estimates
Creating a bathroom remodeling budget is a great starting point for any homeowner.  It can be tricky to estimate costs accurately, which is why it is important to choose a bathroom remodeling contractor that you can work with, offers transparent quotes, and has a great track record with reviews.  A big part of what influences the cost of bathroom remodeling is the size of the bathroom.
A small guest bathroom will not typically cost as much to remodel as say the master bathroom.  The items you plan to replace or layout changes also have a big impact on the cost of remodeling.  Every element in your bathroom you want to replace will vary depending the quality and style of the replacement options.  Popular bathroom elements that are remodeled include: new flooring, cabinets, lighting, new baths, and new showers. Turning a half bath into a full bath might require moving walls.  Any time the basic size or layout of the bathroom is change it can impact the cost to remodel.
Average Cost To Remodel A Master Bathroom
The average cost to remodel a master bathroom is $10,284. The cost to remodel a master bathroom ranged from $5,945 to $25,000 in 2020.
When projecting cost for a master bathroom remodel there's more to consider.  From new tubs and showers to improved flooring, lighting, sinks, toilets, vanities, and new bathroom cabinetry costs can add up.  Investing in your home improves your comfort and increases the value of your property.  So even if you end up moving you'll sell your home for more with the bathroom or bathrooms remodeled. The average cost to remodel a master bathroom ranges from as low as about $5,000 to up to $60,000. While this is a huge range it covers the most basic remodel all the way to up to completely custom remodels with the finest cabinetry, vanities, lighting, showers, and tubs.
The master bathroom is the centerpiece of the home for most homeowners.  It's where you start and end most of your days.  Investing in the comfort and functionality of this room improves your quality of life.  Allow our designers to help you choose what elements to remodel and simply get more enjoyment out of your master bathroom!
5×7 Bathroom Remodel Cost
The average 5×7 bathroom remodel cost is $16,486.50. The cost of a 5×7 bathroom remodel ranged from $14,109 to $18,864, in 2020.
If you're expanding the footprint of the bathroom and going to move walls to do so the costs will be much higher.  To go from a 5×7 bathroom to say a 9×9 bathroom it can easily cost around $50,000 or more.  Depending on the layout of your home, where the plumbing is, and how you want to expand the costs could be lower or higher.
Factors that will affect the cost of remodeling your 5×7 bathroom include the quality of the fixtures, flooring, vanities, tile, and other materials used in the remodel.  Also costs will inflate any time you need to move electricity or plumbing.  Keep in mind that you can refresh a bathroom drastically for less by renewing and replacing instead of moving items such as walls, sinks, showers, tubs, lighting, and outlets.  New lighting fixtures, new tile, new paint or other appearance improving strategies help cut costs and make bathroom remodels less costly.
Small Bathroom Remodel Cost
The average small bathroom remodel cost is $2,375. Average small bathroom remodel costs ranged from $1,250 to $3,500 in 2020.
Because your guest bathrooms are smaller they require less flooring and other materials and are not as expensive to remodel.  The cost to remodel small bathrooms will lean towards the end of each of the ranges of prices listed above to remodel.  Cost of labor for bathroom remodelers is also lower in smaller bathrooms.  This is unless there is a plumbing or electrical problem that is ran into.  There are as always some costs and work involved in any remodeling job.  Here are some factors that affect cost that you should keep in mind when remodeling a small bathroom.
Electrical & Plumbing Issues – If you are having issue with switches, lighting fixtures, leaky pipes, or problem toilets you should have them checked out before having a bathroom remodel done.  These issues can slow down remodeling and inflate costs.  There are times where these issues cannot be seen until a remodeling project is already underway.  Having a budget buffer planned into your project will help cushion the unexpected.
Changing The Bathroom Layout – When you want to increase the size of a bathroom or move things around it can mean significant costs. Increasing the size will mean additional flooring, moving plumbing, and rerouting electrical wiring.  You may also want new sinks and fixtures which will also affect the cost of your remodel.
Appliances & Fixtures – The fans, fixtures, toilets, sinks, bathtubs, showers, and sinks that you want to replace will also influence the cost of your remodel.  The more you choose to remove and replace with newer more stylish alternatives will add value, but also increase the cost of your project.  Some elements can be refinished and will help fit bathroom remodeling into restrictive remodeling budgets.
Bathroom Remodeling: Return On Investment
Today we are all careful with our money and invest it wisely.  It is a fact that bathroom remodeling projects offer homeowners some of the highest return on investment in terms of resale of any home improvement project.  This means that you provide yourself with a beautiful and enjoyable oasis as long as you live in the home, and it pays you back in a higher resale value should you choose to move.
RECEIVE A BATHROOM REMODELING COST ESTIMATE IN PHOENIX
For a bathroom remodeling cost quote please contact MK Remodeling.  MK Remodeling offers bathroom remodeling anywhere in the Phoenix Valley including: Phoenix, Mesa, Chandler, Scottsdale, Glendale, Gilbert, Tempe, and more! If you live in the Phoenix Valley and would like to find out what it will cost to remodel your bathroom call for a bathroom remodeling consultation.  Our design team can help you choose the elements to remodel in your bathroom to renew and refresh your home and keep them in a budget that works for you.  The cost to remodel your bathroom can vary widely depending on what elements you choose to replace and the quality or style of replacement options. Learn more about bathroom remodeling costs in Phoenix.